Lineup announced for Innovation Zone at Abu Dhabi Boat Show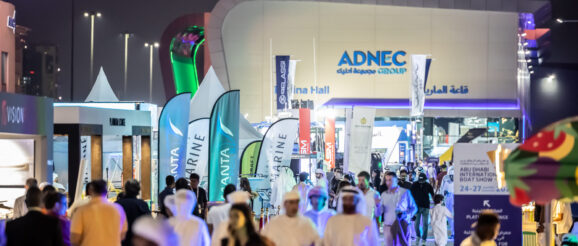 Organisers of the 2023 Abu Dhabi International Boat Show have confirmed the lineup for the show's new Innovation Zone, held in partnership with startup hub Yachting Ventures.
The Innovation Zone sees 16 CleanTech startups exhibiting, including Evoy, Aerofoils, RAD Propulsion, Ripple Boats and Navier. 
The annual trade show returns to the Abu Dhabi National Exhibition Centre (ADNEC) from 9 November 2023 to 12 November 2023. Organisers say the hub will be 'dedicated to supporting CleanTech and sustainable startups within the leisure marine and yachting industries.'
The Innovation Zone will this year be sponsored by Borrow A Boat, which has been coined the "airbnb of boats" and offers access to more than 45,000 boats in over 65 countries.
Commenting on the sponsorship, Matt Ovenden, founder of Borrow A Boat says: "As a tech company ourselves in this industry, who has taken the lead in driving innovation and growth in yachting and lead on sustainable boating, we are delighted to be headline sponsor for the Innovation Zone at this year's Abu Dhabi International Boat Show.
"This is an opportunity for some incredible brands to showcase their products, and we are excited to be part of making this happen to bring through innovation in the boating industry."
Electric Boats
ZeroJet designs and manufactures electric jet propulsion systems for small boats, providing sustainable and reliable boating. Its plug-and-play system is easy and fast for boat builders to install and is said to give boaters a quiet but exhilarating ride on the water.
Ripple Boats is building a 10-metre yacht that is 100 per cent electric.
Navier is America's first and the longest-range fully electric hydrofoiling boat that can recharge in an hour. It flies four feet off the water for 75+ nautical miles.
The Silent Power is presenting the future with 'The Icon', a collaboration between Tyde and BMW that promises fully electric marine travel in 'pure luxury' thanks to cutting edge foiling technology.
Regent is developing zero-emission Seagliders that can traverse the sea in one of three modes: hull, hydrofoil, or flight in ground effect, delivering high-speed maritime transport and logistics.
Voltaic is focused on the decarbonisation of the recreational boat industry through innovative design and battery architecture that accelerates the adoption of clean-energy-propulsion watercraft.
Elvene is a Finnish startup that provides self-sustainable solar electric boats, offering all the benefits of an electric boat, without the need for a charging infrastructure.
Electric Outboard Engines
RAD Propulsion is a UK marine electric propulsion startup developing and selling a range of smart, connected electric products. The first product to market is the RAD 40.
Evoy designs and delivers powerful electric motor systems for boats. Reliable, fast-charging, and smart systems that reduce environmental impact are at the core of what they do.
Water Sports
Aerofoils says it is building the safest and most performant electric foil board on the market. Crafted in Germany, the Audi e-tron eFoil promises 'unmatched performance and peace of mind.'
Floating Padel is building environmentally friendly Floating Padel Court Solutions to create unique gaming experiences on water, offering the opportunity to combine the Padel-tennis and other services and businesses on the water on the same platform.
Other Technologies
AnchorGuardian brings safety to anchoring for sailor, ship and sea. It provides intelligence during the entire anchoring procedure to the captain and crew, in real-time.
Charge Made Good (CMG) is an app that can make most sailing vessels completely fossil fuel-free with faster transit times, unlimited range and more energy aboard for comfort. CMG is free and open source, so it can be used for your existing yacht's conversion to zero-emissions or to eliminate the generator of modern hybrid systems.
Homeport is not an aeration system, and it does not use chemicals. Active at a nano-scale, ultrafine bubbles are introduced to the water where they begin to act on pollutants and anaerobic life that cause odour, turbidity, biofilm and contamination.
Ankor Software supports CleanTech by giving special discounts to electric boat manufacturers and supporting NGO, Beneath the Waves.
Washdown was founded by ex-superyacht crew. The firm offers cleaning through powerful, yet natural biotech cleaning solutions that claim to not compromise on price or performance. Washdown offers both exterior and interior cleaning solutions.
Commenting on the partnership, Gabbi Richardson, founder of Yachting Ventures says: "We are delighted to launch the Innovation Hub at Abu Dhabi International Boat Show this year. As the maritime industry continues to evolve and develop in the Middle East, it is imperative that we prioritise sustainability and nurture the development of innovative solutions.
"The Innovation Hub will be a pivotal platform, connecting startups and entrepreneurs with customers, investors and industry experts — enabling them to showcase their ideas and drive positive change within the sector."
The post Lineup announced for Innovation Zone at Abu Dhabi Boat Show appeared first on Marine Industry News.