Meta and BETC celebrate Rugby World Cup 2023 with Innovation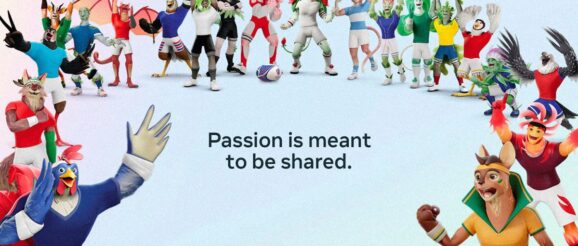 PARIS, FRANCE — Meta, the official supplier of the Rugby World Cup France 2023, is bringing its Superfans to life with a multi-channel communication plan designed by creative agency BETC Paris. Present on Meta's applications and in the Rugby Village in Paris, the Superfans characters are now arriving on television with a film in a brand new format.
The 2023 Rugby World Cup is in full swing and fans have never been so connected. Superfans, characters developed as part of Meta's activation and bearing the likenesses of the 20 competing countries, have infiltrated social networks and are hard to miss: a Gallic rooster for France, a giant shamrock for Ireland, an Australian wallaby and the famous Scottish thistle embody fan passion and provide a symbol behind which they can rally.
To imagine a creative approach that pays tribute to the fans and their passion, Meta chose BETC for creative development and advertising production. The campaign slogan, "Passion is meant to be shared," is inspired by Meta's own platforms, Instagram, Facebook, and Whatsapp, where hundreds of millions of fans worldwide come together to share their passion every day. The Superfans AR filters have already been tried out over 50,000 times on Instagram and Facebook.
Today, the campaign has reached a new milestone. Meta and BETC are unveiling a new format TV ad, filmed entirely by smartphone, where the classic TV screen has been transformed into three vertical smartphone-style screens. An original format that sets Meta apart from the noisy ad space surrounding this World Cup.
Inspired by the way fans celebrate, the film features content and conversations between eager fans and their Superfan, for an immersive and powerful look that reflects the competition. The Superfans interact with Meta's essential features (filters, stickers, interactions, etc.) and feed off the fans' energy to literally grow.
Laurent Solly, VP for Southern Europe at Meta, said, "The Rugby World Cup 2023 is an exceptional opportunity to celebrate the passion of rugby and connect fans around the world. At Meta, we are proud to play a key role as an Official Supplier, and this campaign with BETC Paris illustrates our commitment to sharing this passion in an innovative and immersive way."
Olivier Apers, Vice-President and Executive Creative Director at BETC Paris, commented, "We are really proud to be Meta's agency and to partner with them in their first-ever global sports sponsorship. We have created an integrated campaign for this incredible event that takes place in France this year: "Passion is meant to be shared" We wanted to create an unprecedented film, a unique and extraordinary item for Meta, as a leader in social networks: the first TV commercial that spreads on three mobile screens to help fans share their passion."
A campaign made in France
Drawing on the creative talents of France, the host country of the competition, the film was produced by Albert Albert of the Iconoclast studio and the Mathematic animation and VFX studio, which was responsible for post-production. The soundtrack is by the group La Femme, adding a distinctly French touch to a resolutely international campaign.
The media plan was orchestrated by the Spark agency and will run from 29 September through the finals: on TV, before and at half-time of each match, on outdoor advertising, and, of course, on Meta applications (30s, 15s, 6s formats). Superfans will also be invading the Saint-Lazare, Châtelet, and Marseille Prado stations to appeal to fans on their way to the key matches in October.
Superfans will continue to live through the campaign's other points of contact: in the Meta space at the Rugby Village in Paris, for which Meta has called on Auditoire. AR filters on Facebook and Instagram and the Reels booth at Rugby Village, produced by the Unit9 studio. In the content created by the creators on Instagram, brought together and mobilized under the expertise of the MNSTR agency, according to an activations plan that aims to integrate Superfans into the culture, drawing on various centers of interest and fashionable trends.
The design of the 20 characters was based on the cultural symbols and spirit of each country. This mission was made possible with the support of Havas Play, which coordinated Meta's entire partnership with the Rugby World Cup 2023.
Meta's in-house agency, Creative X, oversaw the creative work and co-signed the art direction for all the media, ensuring the coherence of the project. Discover the campaign's TV film from today on television, but also on smartphones, by bringing together three mobile screens simultaneously, a first imagined by Meta and BETC Paris.
The post Meta and BETC celebrate Rugby World Cup 2023 with Innovation appeared first on adobo Magazine Online.