Liverpool ONE launches 'Innovation Challenge'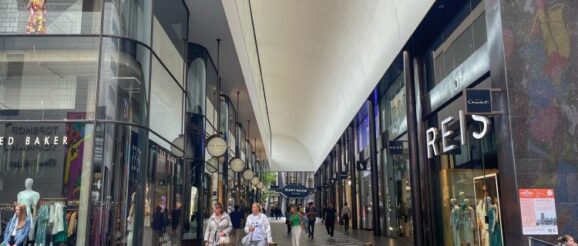 £1bn retail and leisure complex Liverpool ONE offers funding to tech innovators that can help raise awareness of the destination and drive more visitors. Tony McDonough reports
Liverpool ONE has launched its 'Innovation Challenge' and is offering to fund tech innovators that can help it attract more visitors.
Opened in 2008, Liverpool ONE is a £1bn retail complex owned by Grosvenor. Already a popular destination for people from across the North West, Liverpool ONE is now teaming up with investment and innovation firm True to enhance its offer.
Its Innovation Challenge is a search for partners to undertake a paid proof of concept. It aims to identify 'disruptive 'technologies and innovations that will drive visitor awareness, engagement and advocacy to the destination.
Liverpool ONE says it welcomes proposals that provide solutions to one, some or all components of the brief.
Focusing on the three key themes of awareness, engagement and advocacy, examples include (but are not limited to), experiential retail, storytelling, gamification and community.
Grosvenor will be funding the partnership, providing an opportunity for tech entrepreneurs, with the winning concept tested on-site and potential for full rollout and scalability across the estate.
Submission date for the Liverpool ONE Innovation Challenge is Monday, October 2, with successful applicants presenting their final proposition to a panel of Liverpool ONE and True representatives on Monday October 30.
Rob Deacon, senior asset manager at Grosvenor, said: "As a destination, Liverpool ONE never stands still but rather pioneers progression and embraces innovation.
"This, coupled with building visitor awareness and enhancing customer loyalty through engaging activations, is crucial to the success of Liverpool ONE.
"I'm excited and intrigued to see the creative solutions this challenge will bring and ultimately introduce one to the destination."
This latest partnership with True follows an ongoing collaboration with Lone Design Club to create LDC Activates.
It is an initiative that utilises the façade of the soon-to-be store, replacing traditional vinyls with tech-enabled windows using QR code surveys to capture customer sentiment. The technology provides an alternative to traditional hoardings.
Archie Mason, innovation director at True, added: "Collaborating with Liverpool ONE has been highly rewarding. We see 3,500-plus businesses a year and have invested in 55-plus businesses and consumer brands,
"So we know first-hand what these innovative start-ups' new technologies and concepts can do to help drive visitor awareness, engagement and advocacy to Liverpool ONE."
The post Liverpool ONE launches 'Innovation Challenge' appeared first on Liverpool Business News.