Locoproject's innovation in the Australian market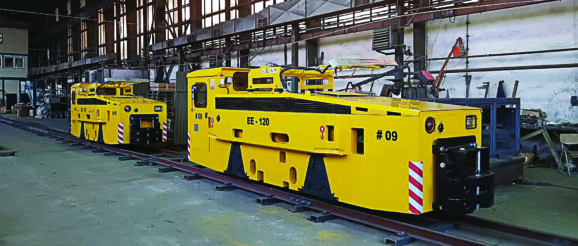 Slovakia-based Locoproject has been leading the charge for low-emission solutions for over a decade, and it now has its sights set on expanding into Australia.
The worldwide resources industry is witnessing a paradigm shift towards adopting low-emission technologies for sustainable operations.
Since long before this trend gained momentum, however, Locoproject had been at the forefront, revolutionising the mining landscape with its environmentally friendly locomotives.
Established in 2011, Locoproject's dedication to developing battery-powered locomotives has been a strategic response to the needs of underground mining operations.
With a keen focus on staying ahead of the curve, the company made the decision to upgrade its battery technology to lithium-based units, ensuring a cutting-edge and eco-friendly approach.
Locoproject utilises lithium-ion (Li-Ion) technology for single-battery locomotives and employs the latest lithium-titanate (LTO) technology for hybrid locomotives equipped with dual power sources.
Locoproject boasts an extensive mining portfolio featuring locomotives, wagons and crushers. Its battery locomotives are equipped with three-phase, asynchronous motors, ranging from 12–45 kilowatts (kW) to hybrid and OHC locomotives up to 110kW, with precise speed and torque control achieved through frequency converters.
According to Locoproject, these battery-powered locomotives offer unmatched flexibility in operations and route-planning, breaking free from the constraints of electrified tracks or overhead power lines. Empowering mining companies to optimise their operations and embrace sustainable practices, this adaptability is a cornerstone of the company's innovation.
Discussing the uniqueness of its locomotives, Locoproject business development manager Stanislava Kovacova highlighted the company's innovative driving system.
"Locoproject places great emphasis on engineering products built to last, resulting in longer equipment lifespans and reduced maintenance requirements," Kovacova said.
"The commitment to durability, reliability and sustainability ultimately translates into a more cost-effective and environmentally conscious choice for mining companies."
Having successfully worked with clients from various corners of the world, including Poland, Germany, Czech Republic and Egypt, Locoproject is now poised to make its mark in the dynamic Australian mining market.
The company has already joined forces with a Tier 1 mining company in Australia, collaborating on a customised locomotive and train operation project.
Kovacova expressed her confidence in the company's ability to cater to the specific needs of Australian mining.
"Having delved into the nuances of the market, Locoproject aims to deliver tailor-made solutions that perfectly align with its clients' requirements," she said.
As Locoproject makes its debut in the Australian mining arena, it stands as a testament to the company's resilience, innovation and commitment to sustainable mining practices.
With its advanced locomotives and unwavering customer focus, Locoproject is set to power the future of underground mining in Australia and beyond.
This feature appeared in the September 2023 issue of Australian Mining.