Low Code Development and AI: How Pro Developers Can Accelerate Innovation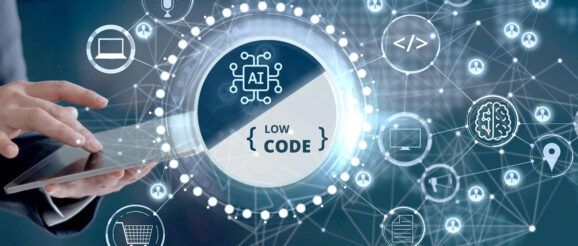 Today, skilled software developers are in high demand, and that demand is only set to grow. Initially, low-code development was seen as a way to democratise development and was deemed too restrictive for professional developers, but that is no longer the case. Now, more than ever, it offers a way for professional developers to achieve more by reducing repetitive tasks and delivering opportunities to be more creative during the software development process.
Of course, to be able to achieve this, developers need to use the right set of tools, enabling them to prototype, build, and optimise applications quickly. In this way, low-code technologies, like Microsoft PowerApps, are fundamental for any developer wanting to maximise their abilities and deliver innovative solutions faster. Meanwhile, AI and automation tools embedded into these low-code platforms are becoming increasingly important, enabling developers to automate tasks, generate ideas, and get insights that can further drive innovation.
THE POWER OF
GENERATIVE AI AND
LOW-CODE
DEVELOPMENT

The union of generative AI and low-code development
is becoming a driving force for innovation on multiple
fronts. For professional developers, AI-driven code
generation, enabled by generative models,
significantly reduces the time spent on repetitive
coding tasks. Developers can focus their energy on
creative problem-solving, crafting innovative features,
and refining user experiences. Generative AI also
plays a pivotal role in content creation. It can craft
realistic text, generate artwork, and even produce
functional code snippets. This content can be
seamlessly integrated into low-code applications,
enhancing the user experience and expanding the
capabilities of the software.
Furthermore, generative AI can be leveraged to
streamline the development of AI-driven applications.
It can assist in training machine learning models,
processing natural language, and automating data
analysis, all within the low-code environment. This
results in the rapid creation of intelligent applications
that provide data-driven insights and predictive
analytics.
MICROSOFT LOW CODE AND AI TOOLS FOR
PROFESSIONAL DEVELOPERS


The ability of professional developers to leverage low-code and AI technologies to deliver cutting-edge solutions
in record time comes down to the tools available to them. Microsoft is renowned for empowering developers
and offers several tools and solutions that are redefining software development:


AI Builder – Empowering professional developers to infuse their low-code applications with AI capabilities. With AI Builder, developers can integrate pre-built models for object detection, text recognition, sentiment analysis, and more, enabling the creation of intelligent applications that extract insights and facilitate data- driven actions.


Azure AI – A wide array of tools for building intelligent applications. Professional developers can leverage Azure's advanced machine learning capabilities, natural language understanding, and computer vision to create AI-driven solutions, from predictive analytics to chatbots and recommendation engines.


Copilot in PowerApps – An AI-powered coding assistant that provides suggestions, code completion, and automated testing. It helps developers write code more efficiently and accurately.


Copilot Control – Extending the AI-powered code generation to specific controls within Power Apps. This tool streamlines the development of custom controls, such as charts or interactive UI elements, enabling professional developers to expedite the creation of unique, interactive features.


Connectors – Connectors can seamlessly integrate data sources, applications, and services into low-code applications, simplifying data access and sharing, reducing development time, and promoting innovation


Azure API Management – Professional developers can use Azure API Management to expose their low-code application's capabilities as APIs, allowing other developers and services to interact with their innovations.


Visual Studio – A robust integrated development environment (IDE) that streamlines the development process, supporting multiple programming languages and platforms and facilitating collaboration and code management.


Microsoft Dataverse – A secure and compliant data platform that supports low-code application development. Professional developers can use Dataverse to manage data and create applications that are scalable, secure, and innovative.
MICROSOFT LOW CODE AND AI TOOLS FOR
PROFESSIONAL DEVELOPERS

Professional developers can leverage low-code
technologies across the entire development
portfolio, from building a full low-code
application and extending it with custom
connectors to building advanced APIs and
components for citizen developers or creating
individual features. By building on a low-code
foundation, developers enhance productivity
across the business while maintaining control.
Moreover, the collaborative approach fosters
innovation by expanding the development team
and encouraging creative solutions. In fact, by
using the tools we've highlighted above, there
are many opportunities for developers to
accelerate innovation, including:


Enhancing Applications with AI – AI offers great
potential to enhance applications by automating workflows and deriving value from data. While custom coding AI solutions is complex, tools such as Copilot generate code and suggest improvements, saving a significant amount of time and enabling developers to easily build, train, and publish AI models without coding them.



Connecting Line-of-Business Apps – By combining low-code Power Apps with APIs, developers can scale line-of-business (LOB)functionality across the business without needing to write and maintain extensive applications. Developers can quickly create custom connectors and leverage AI
capabilities to enhance data connectivity,fostering seamless communication between LOB applications and promoting efficiency.



Automating Business Processes – Professional developers can apply their experience in automation testing and
deployment to automate tasks for other users. With drag-and-drop automation interfaces, developers can quickly set up flows for custom applications. Business process flows deliver a streamlined user experience and help increase user adoption.

HOW AI AND LOW-CODE ACCELERATE INNOVATION
While independently, AI and low-code tools are highly sought-after technologies for professional developers, together, they
have the power to accelerate innovation even further. The tools we've highlighted are just some of those available from the
Microsoft Power Platform, providing professional developers with a rich set of resources for creating innovative
applications. They offer AI capabilities, coding assistance, data integration, security, and development environments that
empower developers to focus on creative solutions, enhance user experiences, and streamline development processes.
Ultimately, the toolset is designed to accelerate innovation and provide professional developers with the tools they need to
not only meet the demands of modern software development but to innovate to meet future demands.
If you want to know how we can help accelerate innovation and boost productivity for your business, please contact us for
a free consultation.