MakeHaven harnesses creative energy to boost innovation in New Haven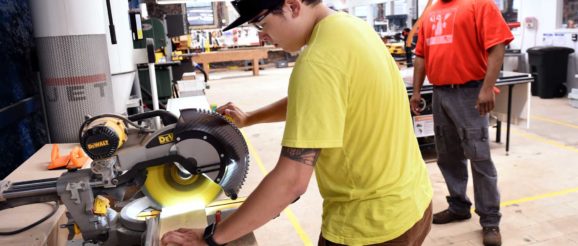 Kelvin Meyer (left) of New Haven saws a board using a miter saw after the ribbon cutting ceremony at MakeHaven in New Haven on August 27, 2018. At right is Jay Johnson of West Haven.

Kelvin Meyer (left) of New Haven saws a board using a miter saw after the ribbon cutting ceremony at MakeHaven in New Haven on August 27, 2018. At right is Jay Johnson of West Haven.

Photo: Arnold Gold, Hearst Connecticut Media

A 3D printer makes a plastic I Love New Haven sign during a ribbon cutting ceremony at MakeHaven in New Haven on August 27, 2018.

A 3D printer makes a plastic I Love New Haven sign during a ribbon cutting ceremony at MakeHaven in New Haven on August 27, 2018.

Photo: Arnold Gold, Hearst Connecticut Media

New Haven Mayor Toni Harp (left) and J.R. Logan, chief maker at MakeHaven, saw through a board in lieu of a ribbon for a ribbon cutting ceremony at MakeHaven in New Haven on August 27, 2018.

New Haven Mayor Toni Harp (left) and J.R. Logan, chief maker at MakeHaven, saw through a board in lieu of a ribbon for a ribbon cutting ceremony at MakeHaven in New Haven on August 27, 2018.

Photo: Arnold Gold, Hearst Connecticut Media
Photo: Arnold Gold, Hearst Connecticut Media
Kelvin Meyer (left) of New Haven saws a board using a miter saw after the ribbon cutting ceremony at MakeHaven in New Haven on August 27, 2018. At right is Jay Johnson of West Haven.
Kelvin Meyer (left) of New Haven saws a board using a miter saw after the ribbon cutting ceremony at MakeHaven in New Haven on August 27, 2018. At right is Jay Johnson of West Haven.
Photo: Arnold Gold, Hearst Connecticut Media
MakeHaven harnesses creative energy to boost innovation in New Haven
NEW HAVEN — This wasn't an ordinary ribbon-cutting.
For one thing, there was no ribbon — nor were there any scissors
Instead, there was a block of wood, an electric saw and two participants wearing goggles behind yellow caution tape.
MakeHaven, a space for entrepreneurs, hobbyists and artists, celebrated its new home Monday at 770 Chapel St. with dozens of its almost 250 members, as well as city and state officials bragging about the fun and potential for the site.
J.R. Logan, the executive director who has been guiding the group for years, said since they have been using this almost 6,000-square-foot center more people have been coming by, learning to use the machines and telling their friends who then join .
"It is a virtuous cycle as far as doing a community activity. More energy brings more energy," Logan said.
He was wearing a MakeHaven T-shirt that was designed at the site.
Among the machines turned on to give the crowd an idea of how they work was a Computer Numeric Control cutting tool.
"It can be programmed by a computer, using typical design software, to cut out whatever you wish," Logan said.
Logan said people usually are making things out of wood at MakeHaven. But the same type of technology is used for all sorts of other things, he explained.
"You can even engrave circuit boards, you can make furniture," he said. "With the right sort of equipment, you can make prototypes out of metal. We do a lot of different CNCs here."
As people were milling about, a CNC was turning out a small, wooden, red sign that read "I love NHV." It was given to Mayor Toni Harp, who spoke at the event.
MakeHaven offers some classes and there is an open house every Tuesday from 7 to 9 p.m. where visitors can learn about the tools and projects at the center. Membershp is $50 a month. The space is open 24/7.
At the site there are 3D printers; a CNC wood mill; laser cutter; several systems to harness the power of a CO2 laser to cut into and engrave wood.
There is a table saw, band-saw, planer and handtools, as well as a place to work on an electronics platform or to solder a basic circuit board together, according to its website.
Also in the room was equipment for standard home brewing; a metal mill; sewing machines; and a computer-controlled embroidery machine. There is also a "machine that heats and allows you to form plastic sheets into specific shapes. Great for making costumes, molds or a housing for your drone."
MakeHaven is part of the Elm City Innovation Collaborative, which was formed in order to apply for and receive the Innovation Places Grant by CT Next, which is Connecticut's innovation fund.
That's a mouthful but New Haven got an estimated $2 million from the fund, while MakeHaven got $180,000 in order to do the upgrade at the facility and add another staffer.
Board chairman Jeremy Medow, who attended the event with his 6-month-old son, Sam, said he is a woodworker by trade and joined to meet other creators. He said he was hooked when he could play with the lasers and a CMC machine.
"I like creating things, " Medow said.
Logan thanked the numerous local businesses that donated time and things such as furniture to fill needs at the space.
Harp said she was excited at the prospects for the new location.
She said the expansion is part of a citywide effort that is transforming New Haven "into the next generation center of innovation and activity."
State Senate Democratic President Pro Tempore Martin Looney of New Haven said he worked with Sen. John Fonfara of Hartford to come up with a program that was more hands-on in supporting innovation in Connecticut by helping creative people.
"New Haven is certainly the state leader in innovation, state leader in entrepreneurship, the state leader in high tech businesses of all kinds. … There are a lot of creative people in New Haven and more will be coming," Looney predicted.
At MakeHaven, we don't just do a #ribboncutting we do a full on #boardcutting with #powertools. Thanks @MayorHarp for stepping up to the saw & celebrating our fully opened 24/7 #makerspace. Check out all you can #make – social open houses, every Tues 7-9pm https://t.co/6nxatU4XJWpic.twitter.com/IfUKWBzHmR

— MakeHaven (@MakeHaven) August 27, 2018
[email protected]; 203-641-2577