U.S. Education Official Praises Purdue Charter School For Innovation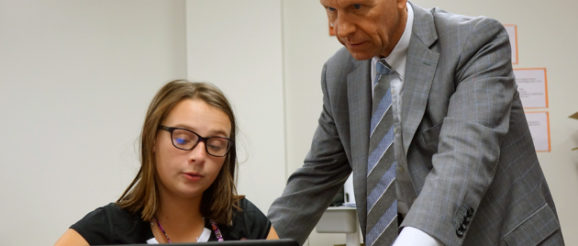 U.S. Education assistant secretary Frank Brogan visited Purdue University's charter high school in Indianapolis Wednesday as part of the department's national back to school tour.
Department members are traveling to public, private and charter schools across the country this week in an effort to spotlight innovative teaching and management ideas.
Brogan praised some of the Purdue Polytechnic's model as "out of the box" such as foregoing a master schedule. Instead, students create their own schedule with classes, internships and science and engineering-based group projects.
"This is an extraordinary example of rethinking education," Brogan said after meeting with students and taking a brief tour at the school's new home in the Circle Center Mall.
Brogan, the former Chancellor of the Pennsylvania State System of Higher Education, was confirmed as the assistant secretary of elementary and secondary in June.
He says changes are needed at the federal level so school leaders can request grant funding for unique curriculum. Brogan said the department may consider expanding available funds or asking Congress to reallocate how its tax dollars can be spent by local schools.
"That might go to help better their opportunities to rethink and then recreate education in their schools and their districts," he said about local schools. Because as we have found with charter schools over the years, I think funding off-times can be difficult when you are talking about start-up schools or breaking the mold in terms of curriculum."
Brogan also visited a school in Shelbyville on Wednesday. He did not meet with Indiana's education officials.
Purdue Polytechnic is in its second year of operation. Scott Bess, head of school, says 85 percent of freshman who started at the school last year returned for their sophomore year. Ninety percent of staff also remained, he says.
The 9-12 charter school is a part of the Indianapolis Public Schools district. It offer's project-based learning in the STEM-fields: science, technology, engineering, and math. Graduates who meet Purdue's admission requirements are accepted into the university's Polytechnic college on the West Lafayette campus.
Brogan's visit wasa contrast to last summer's visitby Education Secretary Betsy DeVos. Throngs of media and protestors appeared at DeVos' stops in Gary and Indianapolis. A handful of reporters covered Brogan in Indianapolis.
Frank Brogan, the U.S. assistant secretary for elementary and secondary education, visited Purdue Polytechnic High School on Sept. 12, 2018 as part of the U.S. Education's national back to school tour. (Eric Weddle, IPBS News)