MediaSource Celebrates 20 Years of Exceptional Innovation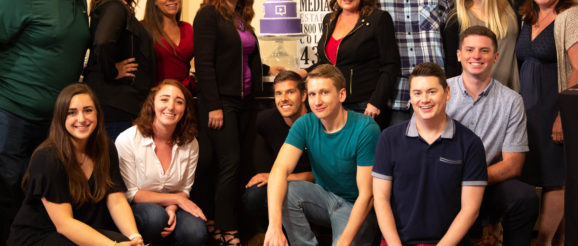 MediaSource Staff & President, Lisa Arledge Powell.
COLUMBUS, Ohio (PRWEB)
The communications industry has undergone a dramatic evolution in the 20 years since MediaSource opened for business, but what hasn't changed is the company's founding principle – that content drives public relations and marketing results.
The company, co-founded by current President Lisa Arledge Powell in 1998, is known for pioneering the use of video and other content to reshape the way companies foster brand engagement and achieve results.
"Since day one MediaSource has led with strategic storytelling as the foundation to achieving brand exposure," said Arledge Powell. "The communications industry has now caught up and today embraces what we have practiced and perfected for two decades," said Arledge Powell.
While content marketing may seem like a familiar public relations tactic today, MediaSource is one of a handful of companies nationwide that offers the full scope of what it takes to obtain content marketing results. The company houses under one roof a full multimedia content production team with an in-house studio, a public relations team with media relations and social media experts, as well as a strategy and analytics team which measures and calculates the return on investment.
MediaSource's approach has revolutionized the PR industry. The group introduced a proprietary digital video delivery system, the Multimedia Newsroom, 10 years ago, well before many media properties were even willing to access such a system. Today this digital tool delivers thousands of multimedia content elements to top media channels such as CNN, NBC News and the Huffington Post, keeping MediaSource's clients in the national spotlight.
MediaSource's strategy-focused approach also foregrounds the importance of results, offering the analytic backbone to measure content against business impact.
The company's innovative methods which continue to evolve are uniquely positioned to meet the changing needs of the communications and public relations landscape, even after two decades. Their consistent forward momentum is reflected in their hundreds of awards, including Emmy®s, The Telly Awards, PR Daily Awards and others.
The company's secret sauce, according to Arledge Powell is their people. "You can't innovate and win awards without an exceptional team and right now our team is the best it's ever been," said Arledge Powell. "We have veteran communications and creative professionals who lead strategy along with a leadership team that includes some of the top young talent in this industry. The power and passion of our team will allow us further emerge as an industry player in the next 20 years."
With today's communications teams charged with delivering results, MediaSource's reputation for creating high-quality work with proven business impact has positioned it as a trusted industry resource.
As a testament to the company's unmatched expertise, after 20 years, MediaSource still works with its very first client, The Ohio State University Wexner Medical Center. The company's roster also includes client partners from respected Ohio and national organizations such as the Ohio Development Services Agency, Nationwide Children's Hospital, Orlando Health, The Arnold Palmer Hospital for Children, the American Society of Plastic Surgeons and the American Dairy Association Mideast.
"It's an honor to work on projects that move the needle for these clients," said Arledge Powell. "Knowing our clients trust us and that we've consistently provided new, and innovative ways to use content to drive PR and marketing results makes me excited for the evolution over next 20 years."
MediaSource is marking their continued evolution with their 20th anniversary on September 11, 2018 with a new logo which incorporates the 20-year milestone. The commemoration will continue with a year-long campaign showcasing their evolution and forward-thinking into 2019.
MediaSource is a full-service creative agency that specializes in helping brands meet their business goals by getting their stories to their target audiences. The agency specializes in content-focused public relations, content marketing and earned and social media exposure for major brands.