MetroLab Launches Civic Innovation Challenge with National Science Foundation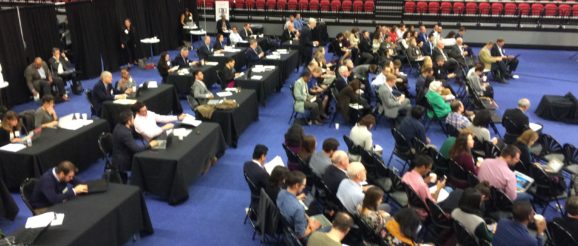 NEWARK, N.J. — The MetroLab Network is launching new initiatives to strengthen and grow the bonds between universities and cities to use innovation and data to solve complex issues related to mobility, economic development, resiliency and other areas.
MetroLab, a network of 44 cities, five counties and 55 universities dedicated to growing partnerships to solve complex urban problems, has launched its next major initiative, the Civic Innovation Challenge. The project is a joint effort by MetroLab, the National Science Foundation (NSF) and Smart Cities Lab.
The Foundation awarded a grant to MetroLab to support a Research in Action competition in the "smart and connected communities area," said Meghan Houghton, a staff associate with NSF.
"We really see this as an opportunity to think about a new framework for research. Research that's embedded in the community, done with the community," said Houghton, speaking at the 2018 MetroLab Network Summit in Newark, N.J., Oct. 15.
"The aim is to leverage data, technology, and social science to identify and begin to address complex community issues, to ultimately enhance job growth, economic development, economic competitiveness, overall quality of life for residents and communities across the country," Houghton explained.
"This is really an opportunity to think more broadly about the research ecosystem. To think about the opportunities for public and private partnerships," she added.
The next stage of developing the Civic Innovation Challenge, set to launch in 2019, will be to have an "ideas competition," which began Tuesday. The competition will help define the topics that will be addressed by the challenge.
"What we're asking all of you to do, and all the folks that you work with at your local institutions, is to sit down with partners from universities, from city government, from communities, from industry, and think about who the partners at the table are who would be interested in engaging on really bringing data, tech, and new knowledge to bear on our civic challenges, and pitch your ideas to us," Ben Levine, executive director of the MetroLab Network, told summit attendees. "This is really an opportunity, for us, to shape how we design the Civic Innovation Challenge."
The challenge is targeting areas around four major themes: equity and access, resilience, mobility, and the built environment. A webinar to discuss the challenge will be conducted Oct. 23 and Nov. 7.
MetroLab, itself an organization only three years old that grew out of Carnegie Mellon University, is now its own standalone 501(c)(3) nonprofit. Starting in 2020, MetroLab will transition to a model that includes memberships with universities, said Levine.
"This transition, for us, is about strengthening the work that we do. And ultimately, it will allow MetroLab to align its funding with its programs and it will allow for our own organizational sustainability," said Levine.
"The predominate area of activity for us is going to be how can we advance civic research within your city and university partnerships. And that can be, how can MetroLab serve as a platform for really bringing research dollars from funders, like federal agencies, or national philanthropy, from industry," he added. "How can we bring those dollars to your partnerships?"
Skip Descant
Staff Writer
Skip Descant writes about smart cities, the Internet of Things, transportation and other areas. He spent more than 12 years reporting for daily newspapers in Mississippi, Arkansas, Louisiana and California. He lives in downtown Sacramento.