MTC and transit partners now accepting applications for Youth Innovation Challenge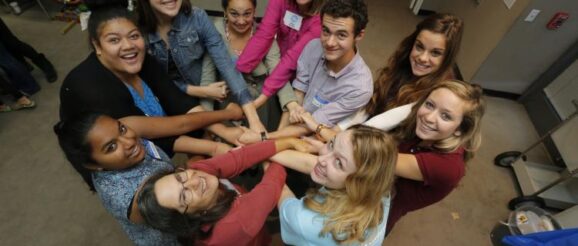 MTC and its partners, including AC Transit, BART, Caltrain, Golden Gate Bridge Transportation District, SamTrans, SFMTA and VTA, are seeking youth participants for the Bay Area's Local Youth Innovation Challenge 2023. Applications to the project are due by 5 p.m. on Friday, Feb. 17, 2023.
Sponsored by national non-profit Introducing Youth to American Infrastructure+ (Iyai+), the Innovation Challenge's purpose is to increase young people's awareness of potential careers within the transportation field and identify ways to modernize the workforce/workplace for the 21st century. The challenge is especially focused on engaging with youth, such as young women and people of color, who have historically been underrepresented in these programs and career fields. The project aims to elevate the voices and ideas of youth on how to address urgent transportation sector workforce challenges of attracting, hiring and retaining employees.
Teams of four to seven participants (ages 18-25) will compete in the Local Innovation Challenge, and the winning team will move on to the international Grand Innovation Challenge competition. Local Innovation Challenge competitors will be entitled to a stipend of $500-1,000, and the winners of the Grand Innovation Challenge have a chance to win an additional cash prize of up to $750 per team member.
Teams will select one of the three challenge themes below, and work to present a timely, relevant, results-focused and potentially actionable solution:
Working collaboratively, the teams will frame the key workforce issues and communicate their equity-centered sustainable mobility "innovation." Teams will partner with a local agency to creatively address the challenge and develop innovative solutions. A sponsoring agency mentor will support the teams by providing data/information, behind the scenes access to the transit sector and presentation coaching.
Each team will present its solution, addressing the overarching purpose (need, value and benefits); major risk/mitigation considerations; next steps; proposed performance measures/metrics; replicability and scale; and speed of potential implementation. 
Local challenge winners will advance to compete for the Grand Innovation Challenge, with the opportunity to win a cash prize of up to $750 per team member.
Residents of the Bay Area's nine counties who are 18-25 years and are interested in participating in the Local Innovation Challenge are encouraged to submit an application by 5 p.m. on Feb. 17, 2023. Further details on the program, eligibility requirements, project timelines and how to apply are listed below.
Program Elements
Local Innovation Challenge Timeline
Selection of the winning local teams advancing to the Grand Innovation Challenge (virtual) will be finalized by Wednesday, May 17, 2023.
Grand Innovation Challenge Timeline
The challenge will be held Friday-Sunday, June 23-25. The first and second place winning teams will be selected and announced on Sunday, June 25.
Grand Innovation Challenge Awards & Recognition
Iyai+ is hopeful that the first and second place winning team members will be separately sponsored to attend the American Public Transportation Association (APTA) Annual Meeting and EXPO that will take place Oct. 8-11, 2023, in Orlando, Florida.
Participation Guidelines: Are You Ready to Innovate?
To Apply for the Innovation Challenge, Youth Must:
The application will close Feb. 17, 2023, at 5 p.m. Applications received after will not be considered. If you are invited to participate, you will be notified by Mar. 1, 2023.
Enrollment is limited, and selections will emphasize a diversity of perspectives from youth across the Bay Area, particularly young people who might not otherwise consider a public sector career.