MTSU Leadership Summit to focus on passion, innovation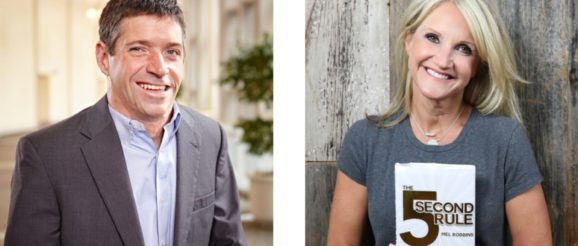 Two nationally known speakers will offer insights on leadership as well as personal and professional development during keynote addresses at this year's Leadership Summit hosted by MTSU's Jennings A. Jones College of Business.
Registration is open for the 2018 summit, which will be held from 10:30 a.m. to 1:30 p.m. Friday, Sept. 28, at the Embassy Suites Murfreesboro, 1200 Conference Center Blvd. Registration cost for the general public and a conference outline can be found at . The registration deadline is Friday, Sept. 21.
The focus of this year's conference is the passion and innovation needed by leaders who want to grow their businesses. 
Jones College Dean David Urban said attendees can expect another impactful conference, which last year featured "Shark Tank" star Daymond John and online magician Vinh Giang.
"Once again, we will bring in world-class speakers to electrify our audience," Urban said. "This is a 'can't miss' event and will surely be packed with action and useful information. Anyone who values quality, commitment, service and excellence should be there. "
Featured speakers this year include:
John O'Leary (Photo: SUBMITTED)
• John O'Leary, a stimulating speaker and life coach, author of the book "On Fire," will motivate and inspire with the true-life tale of his against-all-odds survival from a horrific accident in his childhood, organizers said. O'Leary will apply the lessons he learned to challenges faced in all walks of life, including business. 
• Mel Robbins, a serial entrepreneur, CNN contributor and author, will offer problem-solving techniques based on her best-selling book, "The 5-Second Rule," a fixture on Amazon's "Top Ten Most Read List" and one of the most successful audio books ever published. Her digital platform inspires more than 20 million people a month and her TEDx talk about change has more than 10 million views.
Mel Robbins (Photo: SUBMITTED)
Murfreesboro Young Professionals (MYP) and the Jennings A. Jones Chair of Excellence in Free Enterprise, and the Jennings and Rebecca Jones Chair of Excellence in Urban and Regional Planning are event sponsors. The event is free to MTSU faculty and staff, but registration is still required.
Read or Share this story: https://www.dnj.com/story/news/local/schools/mtsu/2018/09/14/mtsu-leadership-summit-mel-robbins-john-oleary-murfreesboro/1283183002/
Share This Story!
Let friends in your social network know what you are reading about
MTSU Leadership Summit to focus on passion, innovation
Author and entrepreneur Mel Robbins, life coach John O'Leary to speak at Sept. 28 event
Sent!
A link has been sent to your friend's email address.
Posted!
A link has been posted to your Facebook feed.