Yard signs on WSU Innovation Campus: Newest Kanbee art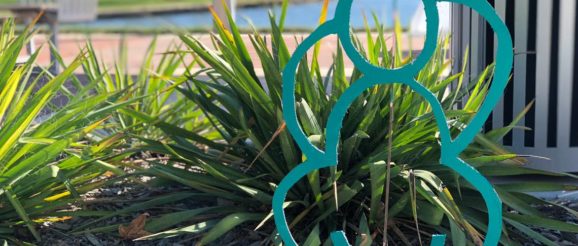 Bright new additions to Wichita State University's Innovation Campus are drawing attention — at least for now.
At the university's invitation, local artist Kanbee has planted more than 150 of his line-art sculptures throughout the campus.
It's part of an effort by the university to entice people to wander about the Innovation Campus, said Charles Baughman, a local artist who helped set up the showing.
"Basically what he's done is hidden them in the different garden landscapes," Baughman said. "I honestly hadn't been back to WSU in years, and now they've got all these new buildings. It's kind of cool to see what's happening at WSU, and this is a fun way to get people out."
But where did they come from?
For years, Kanbee's ephemeral line-art sculptures, crafted from discarded yard signs, were one of the great mysteries of Wichita's art scene.
Until last year, the petite roadside signs were an occasional surprise for Wichita drivers, who questioned both why they were there and from whence they came.
Through dedicated sleuthing, Baughman tracked down and befriended Kanbee, who confirmed he had been creating the signs for years.
The reclusive Kanbee declined to be interviewed by the Eagle last year when contacted through Instagram, where he maintains a profile showcasing his designs.
Now, though, he agreed to an interview in conjunction with the Wichita State showing — the first time he's ever spoken to the media about his art.
The Eagle has verified Kanbee's identity, but is not publishing his name (by request) to preserve the mystique:
Why does Kanbee do this?
The artist, who does not actually live in Wichita proper, said he has been perfecting these line-art drawings for 30 years. The drawings all represent human-like figures, though each is open to interpretation.
He started creating them when he was living in Los Angeles, his hometown.
"I used to put these works up on the freeways with plywood," the artist said. "They could stay up there a couple months, which is wonderful, but Los Angeles is so large that they get swallowed up. The landscape just swallows them up."
He moved to the Wichita area 13 years ago and is not a full-time artist — though he may become one soon, as he expects to retire from his full-time job in a month.
"I'm really not very much concerned with making money — I've never sold a work," the artist said. "I'm much more satisfied in knowing that people have seen my work and they appreciate it. That's kind of more important than money to me — and I guess I'm lucky in regards to that."
He decided to forge a pseudonym: Kanbee.
"I used to ask myself, 'What can my art be,' as far as what I can represent," he said. "Not only that, it's a play on the words Kansas and a bee, like a honeybee, in that I feel like I act like an artistic bee in putting my work up all around town."
How does he make them?
About a decade ago, Kanbee said, corrugated plastic yard signs started to proliferate.
"I just threw plywood out the door and I went completely with this idea of repurposing … mostly political signs, because they're the ones that are in abundance," he said. "I wait until after the election and then I pretty much gather as many as I can, which can be in the hundreds."
Baughman often collects those yard signs at his business, The Art Park, for Kanbee to pick up at an undisclosed time.
Kanbee has said in the past he draws "humans, stripped of all distinctions, ready to be interpreted and collaborated with by a world of hearts."
"It has few barriers to stop you from understanding or gleaning some meaning from it — children can understand it as well as adults," he said. "What you see in any one of my pieces is not necessarily what I see in any one of my pieces, but what you see is just as legitimate and just as important as what your neighbor sees."
What's next for Kanbee?
As he's retiring from his hospital job next month, Kanbee said he plans to keep making yard-sign art, with the help of his recently retired wife.
He plans to place them in bigger cities as well, though he said it won't compare to the impact he's had in Wichita.
"I put 150 works up in Wichita around town evenly spaced, and I really get a sense that I have exposed my work to a very, very large segment of the population," he said. "In bigger cities … I would have to put out an awful lot of work in order to get the kind of impact that I've gotten here in Wichita."
His signs are on public display at Wichita State University at least through Final Friday, though they may be gone by then, he said — collectors often swipe them quickly.