Nestlé's Nespresso thriving as innovation stokes demand | Food Dive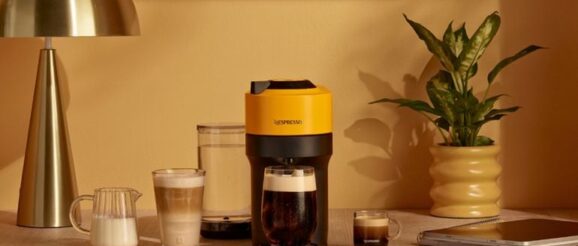 One of the biggest beneficiaries of consumers spending more time at home during COVID-19 was coffee platforms such as Nestlé's Nespresso.
But even now as people spend more time outside the home and grapple with higher costs for many of their favorite items, Nespresso continues to see demand for its system as Americans embrace recent innovations, such as the addition of more cold brew offerings and new and novel flavors like Juicy Watermelon Over Ice.
It also released new machines recently, including its smallest and most affordable Vertuo Pop — Nespresso's first machine with both hot and iced options — tailored for Gen Z and other consumers craving a premium coffee experience.
The brand, which was created by Nestlé in 1986 and spread through Europe before debuting in the U.S. four years later, differentiates itself through its premium beverages and customer service. An estimated 9.5 million Americans reported owning a Nespresso machine as of Spring 2023, according to MRI Simmons survey data.
Food Dive recently spoke with Nespresso North America CEO Alfonso Gonzalez Loeschen about the success of the brand, the benefits of its direct-to-consumer model and the impact inflation is having on demand for its brews. The interview has been edited for brevity and clarity.
FOOD DIVE: How is the Nespresso brand performing? 
ALONSO GONZALEZ LOESCHEN: The brand is doing great. In the big picture of things, we're still a young brand in the U.S., continuing to grow nicely, healthily, posting double-digit growth in North America in the first half. So things are going well. A lot of this growth has been driven by our focus on innovating the product, that premium coffee experience. 2023 has been one of our strongest years in innovation. … We're innovating the premium coffee experience to really continue to drive that accelerated growth. We're doing it with a focus on catering this experience to younger generations, particularly we talk about Gen Z.
Where is growth coming from for Nespresso?
LOESCHEN: The pandemic really helped us accelerate our growth. But we've kept continuous investment behind the brand, our capabilities, the customer experiences that we offer, the coffee portfolio, and the machine solutions that we bring to our consumers. Innovation is really what's driving our growth, and what we've been able to do as a young brand is increase our penetration, increase our acquisition and really expand our customer base. 
We've grown our base by double digits, year over year, so even though in-home consumption has shifted post-pandemic, consumers continue going out and not as much at home, we've been able to maintain, for the most part, the average consumption that consumers have in their systems in home.
And at the same time, we've seen a very healthy recovery of our B2B business. We've invested not only in bringing back the business post-pandemic. … We've been investing with new channels, health channels, universities, education, that has allowed us to recuperate the growth, and then some, in terms of our B2B business.
How does Nespresso benefit from having a direct-to-consumer model?
LOESCHEN: As long as our consumers subscribe and purchase from our channels, we're able to understand how many new members we're bringing in every single year. We're able to understand what type of coffees they like, what is their average consumption, their average basket size …. What we're seeing is that we're growing our customer base. We are catering to our consumers and offering them personalized experience. So that keeps them coming back.
We're able to retain them in our brand because they see value behind the brand, not only because they're getting new solutions, new coffees. We continue offering new coffee experiences to them, whether it's through our [retail] boutiques, personalization online, or through coffee experiences. We've really upped our efforts in terms of how we have positive impacts in the communities that we work in … to be more relevant to the consumer
I do think [DTC is] extremely, extremely valuable. The more insight we can get into consumers, into their consumption habits, what they like, what they don't like, what they're open to, etc. What it allows you to do is the better you can cater to their needs, to personalize a little bit more the offers that you can give them, to develop products that they're looking for instead of having a blanket approach to your overall customer base. It allows us as well to drive consumers to experience the different things that Nespresso offers, not only in terms of the product but in terms of experiences or in terms of different channels.
Are you seeing an impact from inflation? 
LOESCHEN: When you look at a pandemic, the shifting channels, the inflation and all the macroeconomic headwinds that we've been seeing, that does slow down that business a little bit. [Still,] we've been able to maintain an accelerated growth.
We've been investing behind the business during the pandemic and after the pandemic, not only in capabilities but really in terms of our portfolio and our customer experience, aiming to drive customer satisfaction. So, yes, you see a slight slowdown, but not something that is really affecting our business thanks to everything that we're investing behind.
The fact that we're catering to younger audiences, Gen Z represents about 30% of the population, and it has a purchasing power of more than $7 trillion. By catering more to that generation and getting in those new consumers, those new audiences into our system, into our brand, and doing that in a way that really caters to their needs, that is enabling us to continue to grow and overcome some of the inflationary pressures.
What's next for Nespresso?
LOESCHEN: Innovation is at the core. Even though we had a strong first half, you're going to see a very strong second half as well, not only in terms of product but in terms of partnerships. We have to continue investing in our personalization abilities.
Has the Nespresso brand considered selling ready-to-drink coffees in bottles or cans?
LOESCHEN: When we look at the coffee world, obviously, we look at all the solutions that are out there. What is very important for this business is how can we provide a superior premium experience than what is out there. So never say never. If we find a way in the future to provide a superior experience in a ready-to-drink packaged coffee that is sustainable and responsible as well, then we will definitely move further into those areas. Right now, our major focus is behind at-home solutions as well as growing our B2B customer base.
Issues such as sustainability, helping producers and the environment have been core to the Nespresso brand. What are you doing on that front?
LOESCHEN: That's at the core of what we do, our AAA [coffee sourcing] program is alive and well and continuing to grow. … We continue to invest not only in growing our recycling rates by making it more convenient for consumers, but we're moving into circularity, even into our machines. .. The average consumer will use our machine for three to five years before switching.
What we want to be able to do, instead of destroying those machines is to try circularity for those machines. [So we have a program] for when you've approached the end of the life of your machine, or where you want to switch your machine, you can bring your machine to Nespresso and we'll take a look at it, clean it, refurbish it, and replace the parts to be re-released as a refurbished machine at a more affordable price in sustainable packaging. We tested this program and it was well received. We'll be launching that towards the end of the year as a permanent offering within our portfolio.