Redmi Note 12 Series Mega Discount: Your Gateway To Value And Innovation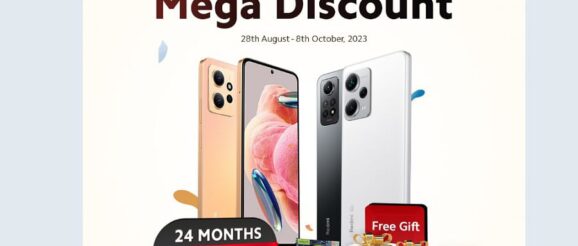 Are you ready for a smartphone experience that combines unparalleled innovation, cutting-edge technology, and unbeatable affordability?
Look no further than the Redmi Note 12 Series, the true embodiment of Xiaomi's commitment to providing exceptional mid-range smartphones that outshine the competition.
And now, from August 28th to October 8th, your opportunity to own a piece of this extraordinary technology is even more irresistible, thanks to the Redmi Note 12 Series Mega Discount.
The Prime Time for Smartphone Enthusiasts
From the 28th of August to the 8th of October, the smartphone market will witness a game-changing event – the Redmi Note 12 Series Mega Discount.
This limited-time promotion invites you to embark on a journey of value, performance, and style, all while saving a significant chunk of your hard-earned money.
If you've been considering upgrading your smartphone, this is the moment you've been waiting for.
Elevate Your Mobile Experience
When it comes to mid-range smartphones, the Redmi Note 12 Series stands head and shoulders above the competition, surpassing devices like the TECNO CAMON 20 and Infinix Note 12.
Packed with an array of features that redefine what's possible in this price segment, the Redmi Note 12 Series is a true game-changer.
Redmi Note 12: More Than Meets the Eye
The Redmi Note 12 boasts a remarkable 50MP AI triple camera that captures stunning detail and vibrant colors.
The phone's 120Hz AMOLED display guarantees smooth visuals and immersive experiences, bringing content to life like never before. With a substantial 5000mAh battery and 33W fast charging, the Redmi Note 12 keeps you powered up throughout the day, ensuring you're never slowed down by a low battery.
Under the hood, the Snapdragon 685 ensures swift performance and seamless multitasking, making the Redmi Note 12 a true workhorse for all your needs.
Redmi Note 12 Pro+ 5G: Power and Performance Combined
For those seeking the pinnacle of performance and innovation, the Redmi Note 12 Pro+ 5G takes the stage. Its groundbreaking 200MP camera with Optical Image Stabilization (OIS) sets a new standard for smartphone photography, capturing detail and clarity beyond imagination.
The 120W HyperCharge technology ensures your phone goes from zero to hero in record time, while the 120Hz AMOLED display offers a visual feast that's hard to match.
Unbeatable Discounts and Extra Perks
During the Redmi Note 12 Series Mega Discount event, your investment in innovation is rewarded with remarkable savings and exciting freebies:
Redmi Note 12: Purchase this incredible device and enjoy a 10,000 naira discount, along with a complimentary 20,000mAh Redmi Power Bank.
Redmi Note 12S: Elevate your experience with a 15,000 naira discount and receive a Redmi Band 2 to track your health and activities.
Redmi Note 12 Pro: Capture memories like never before and receive a Redmi Band 2 as a free gift with your purchase.
Redmi Note 12 Pro+ 5G: Embrace the future with the Redmi Band 2 included alongside your purchase.
Your Path to Tomorrow Begins Today
Mark your calendars for the 28th of August, and make your way to the nearest Xiaomi store or authorized retailer to secure your very own Redmi Note 12 Series smartphone.
With the Mega Discount event lasting until the 8th of October, you have plenty of time to make the right choice.
Don't miss out on this opportunity to own a smartphone that transcends expectations and delivers exceptional value. The Redmi Note 12 Series Mega Discount is your gateway to innovation – seize it while you can!