Nothing founder Carl Pei on making innovation fun · TechNode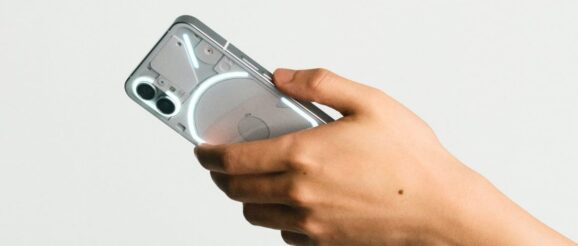 Every Wednesday and Friday, TechNode's Briefing newsletter delivers a roundup of the most important news in China tech, straight to your inbox.
At the BEYOND Expo 2023 tech conference in Macau on Thursday, the co-founder of phone maker Nothing, Carl Pei, held a fireside talk with Richard Lai, a senior reporter at Engadget, to discuss the challenges and development of the brand. 
Previously the co-founder of Chinese smartphone company OnePlus, Pei founded Nothing Technology Limited in London in October 2020. Positioning itself as a design-focused phone brand, Nothing's first mid-range model, the Nothing Phone(1), was released in July 2022. It was particularly notable for the array of lights on its back, known as the Glyph. The Glyph functions as a notification system, flashing in different combinations and colors, and accompanied by varying vibrations.
Late last year, Nothing opened its first physical store, in London's Soho district, featuring products such as the Ear(1) wireless earbuds and Nothing Phone(1). In October, Nothing will celebrate its third anniversary with the launch of its new flagship device, the Nothing Phone(2). It will also use this launch to enter the US market, having to date targeted India, Germany, and the UK for its phones.
Richard Lai, a senior reporter at tech media outlet Engadget, interviewed Pei about the development of Nothing as part of a fireside chat at BEYOND. The below excerpts highlight the key segments of their 30-minute discussion. Pei's quotes have been edited and condensed for clarity.
In the beginning, the main challenge to kickstart the business was the shortage in the supply chain, coupled with being a new company and lacking trust in the market. However, we managed to overcome these issues over time. We simply spoke about our ambitions and explained why we had a chance at being successful. Thankfully, we were able to convince some people to support us and release our products. It unlocked the next phase of our journey, with supply chain resources and capital issues resolved.
We recognized an opportunity within the phone industry, considering that there are only a few big companies like Apple, Samsung, and a few Chinese brands. When a company becomes big and successful, it would not want to take substantial risks. The company knows its customers  and the kind of products they want, so the barrier to entry is high. This situation positions us as the only company that can do things differently. Smartphones have been around for almost 20 years, and have become monotonous of late. No matter who you talk to, whether it's our team, consumers, or even our sales partners or carriers, everybody is afraid that there's no more innovation. So I think that's what we really want to play with, for example: how can we make technology more fun? Again, I think we're in a very unique position to do that.
We have a strong design team. One of our co-founders started out from a well-known fashion brand. We also have the former head of design from Dyson, who joined us to lead our design efforts. Although I have a good eye for design, I'm more like an editor. I only intervene in very extreme cases, when they're obviously going down the wrong path, but normally, I'm pretty hands off when it comes to design.
We have big ambitions, but as a company, we operate in a practical and pragmatic manner. When building our first phone, we did not have the engineering capabilities that we really wanted. We were actually hiring the team as we were building the product. A lot of the engineering work had to be outsourced to third parties. We needed time to become more confident in our engineering capabilities. People have very high expectations when you're selling a flagship, but our company started off with a mid-range product (Nothing Phone 1). We always wanted to make a flagship device, but we just needed to take a step-by-step approach. Over the past year, our engineering team has gotten ten times stronger. Our design team has become stronger as well, and we can now finally take the step to create a genuine flagship product.
We are headquartered in London with a team of 450 employees. We really believe in leveraging the strengths of different regions. Prior to moving to London, I stayed in Shenzhen for 12 years. We have strategically distributed the hardware team and supply chain in Shenzhen, while building the software team in Taipei. Additionally, we have our manufacturing in India and small-sale offices in the Middle East. Our central thought is to connect the world's best talent and strength from different fields.
When it comes to our products, we are already in two big product categories, audio and smartphone. Therefore, rather than diversifying into numerous products, I think, we should focus on expanding our penetration and market share within the products we already have. 
For our first phone, we lacked sufficient engineering capabilities on the software side. So, when we asked our users about the primary reason they bought our product, the number one answer was design. I think our first phone primarily stood out due to its hardware design. However, this year, we're excited to bring that design expertise to the software side as well. I'm looking forward to this because if people already appreciate us for our design, imagine the impact when we apply it to our software too.
The Glyph Interface consists of five light components on the back of Phone(1) that provide you with a new way to communicate and interact with the Phone(1). That's the concept of calm technology. You don't have to actively engage with the phone, but it still gives you important information. For instance, when you're driving a plane as a pilot, there are signals and lights in your periphery. You need to focus on what is ahead of you, but you can still see what is going on around you. There are so many features that we are looking forward to updating in the Glyph interface. We've been criticized a lot that it's just a phone with some funky lights on the back. Hopefully, we will optimize this feature.
The real evolution is coming soon. Basically, it will allow you to set different light patterns depending on who's calling you. So you can see whether it is your significant other, your boss, or somebody less important, and then decide whether you need to answer it or not. When you charge wireless on the back, it lights up to signal your charging state. But I think we're barely scratching the surface. Our intention is to enable users to put their phones down, for instance, during dinner with friends, Nothing phone can notify you about what's going on without you paying too much attention to it.
Even big companies are starting to take inspiration from us, companies that are way more successful. At least we're moving up the value chain in that regard. We want to ignite change, then inspire others to be a part of that change. Overall, the industry is getting more interesting.
Support TechNode
With a small team, TechNode provides timely news and thoughtfully researched articles for worldwide readers interested in learning more about the Chinese tech industry.
Your contribution is appreciated.
Paying the transaction fee is not required, but it directs more money in support of our mission.
Paying the transaction fee is not required, but it directs more money in support of our mission.