OK Innovation: Final salute to a personal hero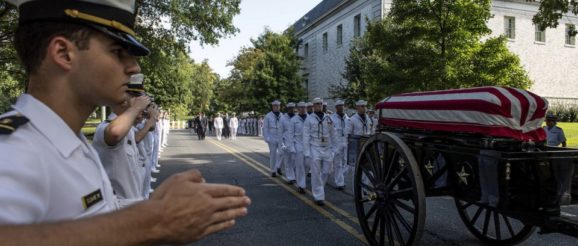 OK Innovation: Final salute to a personal hero
I lost a hero last week. My heroes tend to not be athletes or celebrities but regular people who rise to the occasion and do extraordinary things. They stand strong for their personal convictions in the face of intense pressure.
My list includes relatively obscure figures of history such as William Wilberforce who made it his life's work to lead the charge to abolish the slave trade in the United Kingdom for decades, from the late 1800s through the early 1900s. And Martin Niemöller who stood against the power of Hitler and his Third Reich as it tried to silence the church in Germany.
And Nelson Mandela who gave up his personal freedom and most of his adult life in a fight to end the apartheid system in South Africa. And Chuck Colson who stood before a hostile audience at the Harvard Business School and told them Harvard could not truly teach ethics because their idea of ethics based on relativism did not embrace the unchanging Judeo-Christian ethic on which Colson argued a true ethical standard must be based.
John McCain is one of my heroes. Although I did not always agree with him, I have always respected him and felt that no matter the issue or circumstances, his positions were motivated by what he believed was in the best interest of a country he loved unflinchingly. Even in the face of a horribly painful disease, he continued to fight the good fight.
Perhaps the steel in his character was formed through his long years surviving the brutality of the Hanoi Hilton. Perhaps it came from generations in his family of commitment to public service and the greater good. Probably, it came from a little of both. He would have made a great entrepreneur, but I am glad he chose a different path.
I must admit to being more concerned than I have ever been about the future of our country, given the unprecedented (in my lifetime at least) political polarization and devolution into what I see commonly referred to as tribes and tribalism. It seems that both ends of the political spectrum are further apart than they have ever been, aggressively enforce a norm of no compromise, and routinely demonize the other side to advance their own agenda.
John McCain was one of the few that was willing to stand up for what he felt was best for the country, no matter how his "tribe" felt about the issue. He also understood through his years of public service, that real solutions to our country's problems don't happen from opposing bunkers but through coming out of the bunker and negotiating a real solution.
His last words were extremely telling of his heart and his hope for this nation that he loved so much: "We have always had so much more in common with each other than in disagreement. If only we remember that and give each other the benefit of the presumption that we all love our country, we'll get through these challenging times. We will come through them stronger than before. We always do."