[On the Job] Organically Grown Innovation: LG tiiun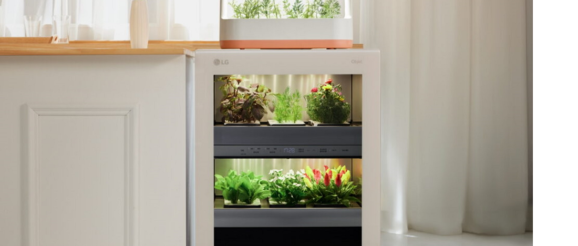 In this installment of On the Job, we go inside Sprout Company – the first in-house company established by LG – to hear more about the development of and future plans for LG tiiun.
While forced to stay at home during the global pandemic, many people took up the hobby of gardening as a way to pass the time, reconnect with nature and cope with the effects of long periods of social isolation.
According to a survey conducted by Trees.com, an online resource for gardening advice, 68 percent of Americans have cared for at least one houseplant since 2020, with 38 percent of Americans between the ages of 18 and 24 doing so for the first time during lockdowns. Of the young adults surveyed, more than half said that they turned to gardening to improve their mental health.
To make growing plants at home easy, LG introduced the LG tiiun in 2021 and the tiiun mini in 2022 – two innovations that allow users to enjoy a greener lifestyle, indoors. A smart gardening system with built-in LED lighting and automatic temperature control, LG tiiun is the 'green thumb' that can help anyone achieve gardening success.
LG tiiun was devised and developed by Sprout Company, the first company-in-company (CIC) established by LG. Forming independent in-house companies, such as Sprout, has helped LG to foster innovative new business ideas and enter new markets more efficiently. Case in point, the tiiun mini was developed and launched much faster than its predecessor.
Shin Sang-youn, head of Sprout Company, set three clear goals to grow the 'pet plant' market and the popularity of LG tiiun. "Our objectives were to turn customers previously uninterested in gardening into plant-lovers, influence customers with an interest in keeping plants to choose LG tiiun and create a fandom among LG tiiun owners," he said.
The first step in achieving these goals was the creation of an online community for tiiun owners. Established in October 2021, the community now has more than 6,000 active users as of May 2023. "The community has been favorably received because, instead of being a one-sided platform where LG simply posts tiiun-related information and news, it gives members the opportunity to share their own personal stories and communicate with fellow plant- and tiiun-lovers," explained Shin.
The team at Sprout Company has also made it a priority to listen to and act on feedback from tiiun owners. For instance, some tiiun users noted that, because they preferred raising their plants for longer periods of time, they would run out of the plant nutrients included in the seed kits. To remedy this, LG started selling the nutritional supplements separately as well, so that users who wanted more can purchase them whenever they needed. Additionally, in response to consumer demand for more color options, the lower part of the LG tiiun mini is now available in four pleasing pastel colors – beige, mint, lemon and peach.
Upon observing that tiiun users were taking daily photos of their growing plants, LG even created a 'plant journey' within the dedicated LG ThinQ app. Users are now able to use the app to take pictures, which can then be compiled into a timelapse video charting the miraculous and immensely satisfying journey of growth.
"We will continue to listen to consumer suggestions to improve our current offerings and to develop new products that solve real problems and create real customer value," said Shin. "LG tiiun also shows our commitment to good ESG management, as each unit features parts made from recycled plastics – the use of which helps us reduce carbon emissions from production."
As of now, LG tiiun is only available in South Korea. However, it is expected to reach more markets in the near future. "With global expansion in mind, we are currently experimenting with cultivating plants from various regions and environments," said Shin.
Proud of tiiun's success at home and looking forward to its bright global future, Shin stated, "In the same way that Scotch Tape and Styler have become generic terms, our hope is that, someday, tiiun will be the word that people use when they're talking about indoor gardening appliances."
# # #