One World Filter: Innovation for safer, healthier and affordable drinking water | Rick Olivares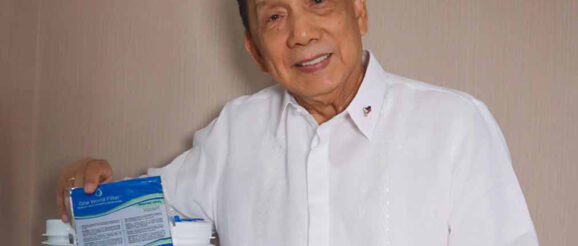 Following the devastating effects of the Covid-19 virus, the world has placed a greater premium on health in many forms whether it be personal protection and hygiene to food safety.
Entrepreneur Dr. Alberto Fenix Jr., whose advocacy has long been in improving the general livelihood of Filipinos, would like to make a case for safer, healthier, and affordable drinking water with the One World Filter.
The One World Filter system is the first of its kind as it makes use of three filters in one OWF Filter Pack. Its revolutionary Nanotech fibers, an integral part of this filter system, ensures you and your family cleaner and safer drinking water.
The first, being the Sediment Prefilter, removes dirt, dust, and sediments. The second is the Carbon Prefilter that removes dissolved organic material. And lastly, the Nanotech Filter that is scientifically proven to remove bacteria, viruses, parasites, protozoan oocysts as well as a broad range of pesticides, herbicides, pharmaceuticals, industrial chemicals, chlorine, chloramine, hydrogen sulfide, and asbestos.  The nanotech filter is an electrokinetic filter, which captures particles (like virus) down to ~25 nanometers (0.025 micron). It does this by the nature of the positively charged catalytic carbon and nanofibers attracting the negatively charged contaminants such as bacteria and virus.
The One World Filter System can intercept microbiological contaminants such as viruses with just a gravity flow application making it affordable as compared to other water filter systems.
"Water is the most essential to life.  That is why I have always been on the lookout for doing business that is water-related," said Dr. Fenix. Although this was a long-time ambition of his, it was only in 2019 that Dr. Fenix focused his attention to drinking water through his company, AiFEN True Water, Inc. Previously, he made use of expensive home water filters and had purified water gallons delivered to his home.
The question the businessman asked was, "How clean was the water he was drinking? This was the water I was using for cooking, brushing my teeth, and washing fruits, meat, and vegetables."
When he learned of the results—and it wasn't as wholly clean and safe as it was advertised—he decided to do something about it.
"Drinking water in itself had become a huge business.  But the question that many people ask is, 'How safe is the water that is delivered to your own homes?'" postulated Dr. Fenix.
After years of researching, Dr. Fenix came across the One World Filter System and was determined to bring it to the Philippines first. While the filtration system's revolutionary filters—that are essentially fibers that were compressed into more portable yet effective sheets—were invented and manufactured in the USA, AiFEN True Water Inc. takes pride in the fact that the dispensers are manufactured in the Philippines.
"Aside from all the contaminants that it filters, the system preserves the natural minerals and salts without the use of any chemicals," explained Dr. Fenix. "Essentially, the filters cleanse, refine, and purify the water. Furthermore, it is very inexpensive because you do not need any electricity."
One filter pack is rated to produce some 580 liters of safe drinking water that is good for at least 32 days.  Each refill filter pack is sold at a Suggested Retail Price of P200 each. Very inexpensive as compared to purified water deliveries that will cost at the very least P600 a month.
"That is more than the 540 liters of water that is the recommended consumption for a family of six," underscored Fenix of its cost efficiency. "And this will cut down on water gallon delivery costs—not to mention the purchase of bottled water."
Since its introduction into the market, the One World Filter has been tested and passed the standards of the National Sanitation Foundation (NSF Standards) as well as the Food and Drug Administration in the Philippines.
The One World Filter System is available on Lazada and Shopee at just P1,999 which includes 3 OWF Filter Packs, which is good to last 3 months for a household of six persons.