President Biden awards the National Medal of Technology and Innovation to Pitt professor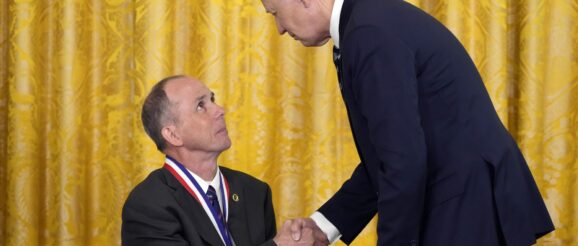 President Biden awarded a Pitt professor with the National Medal of Technology and Innovation on Oct. 24 and then inducted the professor into the National Inventors Hall of Fame on Oct. 26.
Rory Cooper, a biomedical engineer, was awarded the medal for his lifelong work innovating and improving upon technologies for people with disabilities. The U.S. president awards this medal to individuals or teams for their "outstanding contributions to America's economic, environmental and social well-being."
Cooper, who uses a wheelchair himself, focuses on improving upon existing disability technology, as well as inventing new wheelchair models for users. He also remains a steadfast advocate for the disabled community. His lifelong work joins the ranks of Steve Jobs, another previous recipient of the medal, along with two other Pitt affiliates who previously received the award.
Cooper is also the founder of the Human Engineering Research Laboratories, where he invented the stair climbing wheelchair as well as improved robotic wheelchairs to better assist in patient transportation during hospital visits. Cooper currently holds 25 U.S. patents, and continues to invent new technology including a new robotic wheelchair design. 
For Cooper, this award is just an addition to the large number of accolades he has collected over the years for his work, ranging from other invention accolades to an Olympic bronze medal when he competed in the Paralympics. 
Pitt senior vice chancellor for research Rob Rutenbar, who wrote Cooper's nomination letter, said in a Pittwire article that throughout his 40 years in academia, Cooper is one of the most distinguished and impactful colleagues he has worked with.
"Few manifest with impacts across as many areas of vital national interest as Rory — with contributions ranging from fundamental science to unique, commercialized assistive technologies," Rutenbar said.
The post President Biden awards the National Medal of Technology and Innovation to Pitt professor appeared first on The Pitt News.