Product Innovation: Rolling Rack Towers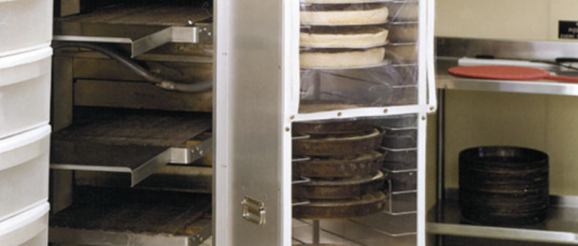 Very few bakeries, pizzerias or foodservice operations have enough room. We've been in hundreds of operations, and I don't think we've ever encountered a situation where someone tells us they have all the space they need. Instead, most operations are cramped, hectic and crowded.
Production needs change frequently and very few things have a permanent home, including rolling racks. These essential, and moveable, pieces of foodservice equipment give operators the ability to vertically store many items and move them in and out of the way as needed.
It's why they're so common in the food industry, and it's also why there are quite a few manufacturers of rolling racks. So what makes LloydPans' rolling racks unique and not just another "me too" product? Durability, sanitation and customization.
Designed for durability
When we developed our rolling racks, priority number one was a rack that wouldn't need to be replaced…. ever. Our rolling racks use a combination of a light-weight aluminum frame with stainless steel wire racks. This construction makes them easily-moveable and durable. We also designed the racks with rounded-edges to better absorb the inevitable crashing of pans into the rack. These rounded edges may not seem like a big deal, but they are essential for creating a smoother transition when panning/depanning and extending the shelf life of the rack and your pans.
Eliminate black dust and grime
Most pizza and bakery racks are constructed with bare aluminum frames and bare aluminum racks, causing oxidation and black marks to appear on the rack and pans. LloydPans uses stainless steel wire racks, eliminating any black dust or grime that may taint your products.
Customized for your needs
Our custom pan capabilities are known throughout the industry, but did you also know we can customize racks for your specific needs? We sell standard configurations, but we can also build custom racks to hold a specific number of pans, or racks that require specific shelf clearances.
Upgrade your rolling racks with durability, sanitation and customization by contacting the food solutions experts at LloydPans!