Virtual Reality and a Career in Engineering Design Technology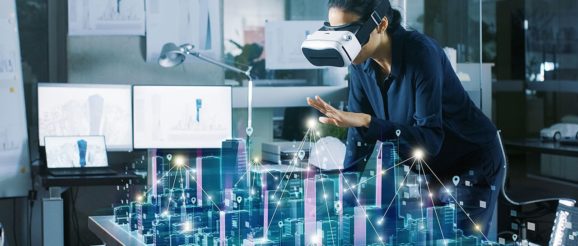 While it may still seem like something out of a sci-fi film, augmented reality (AR) and virtual reality (VR) have already expanded into many different industries such as fashion, commerce, sports, gaming, and even engineering. In Canada, at least 84 percent of companies specializing in AR and VR technologies are focusing on building content, with a global expected growth of at least $120 billion to come in the next decade.
What does all of this mean for careers in engineering design? Here's a closer look.
A Brief Run-Down on Augmented Reality and Virtual Design
Although augmented reality has been around since the 1950's, the implementation of digital technologies has to lead to its recent rise in popularity. In the late 1990's AR entered mainstream culture when it began to be used by sportscasters to superimpose digital first-down lines on the field during football games.
It's a common misconception that AR and VR refer to the same technology, but the two are actually separate. The main difference between augmented reality and virtual reality is that AR incorporates digital elements and information into a live view of your surroundings, while VR features a simulated environment which is completely different from the one around you.
VR was first used in design in order to create product prototypes at a low cost and has quickly become a useful tool for students interested in a career in engineering design technology. Although it has yet to reach its full potential, VR allows designers to analyze their projects in real space, from many different angles, and with the addition of a head-mounted display and haptic gloves, users can visualize, touch, and feel a virtual version of their design.
How Grads of an Engineering Design Technology Program Can Use AR and VR Applications
One of the most useful benefits of virtual or augmented reality technologies is that they can be used throughout the design and manufacturing process, from the initial concept to assembly and quality control phases. By using AR as well as VR tools, graduates of an engineering design technology program can gain even more insight into how their designs will work in the real world.
Virtual reality can help engineering teams follow a design from idea to final product
BIM revolutionized how engineering teams design their projects because it provides a faithful representation of the project plan and layout, as well as helps with optimizing and predicting its lifecycle. BIM is a data-driven approach to product design, and with the introduction of VR and AR to the industry, it can be enhanced upon as a useful tool for engineering teams to consult as they plan and see their project through to completion.
Where BIM represents a digitized version of the final design, AR can produce a more efficient interpretation of the project's 3D digital data, allowing engineering teams to gain even greater understanding. One of the drawbacks of BIM designs is that they exist solely within the software of a computer, and new virtual and augmented reality tools can help bring the project into real-world spaces to spot or fix issues that may be more abstract in concept.
The Benefits of VR and AR Technology
Virtual reality and augmented reality tools are especially useful when it comes to product design during engineering training because it allows for real object tracking and mixed reality integration, and simply a more hands-on approach to creating a working design before it becomes fully realized in its physical form. Room and large-scale sessions can bring the project to life, and visualize it in a fuller capacity.
In addition to providing a real-world representation of a project or design, virtual and augmented reality can improve collaborative communication with team members or potential clients, allowing for useful feedback before the final product is produced. It also allows for faster, more efficient timelines, and creates a streamlined product development process overall, reducing material waste and trial-and-error mistakes.
Do you want to complete training for a rewarding career?
Fill out the form to get started!
The post Virtual Reality and a Career in Engineering Design Technology appeared first on .