Provinces get innovation boost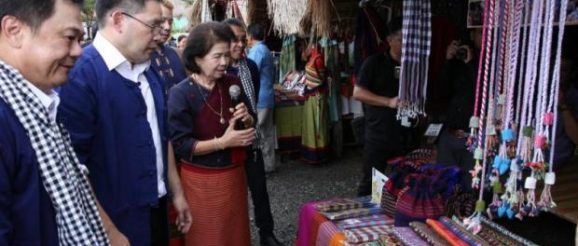 Industry Minister Uttama Savanayana looks at handicrafts made by Tai Yuan villagers in Nakhon Ratchasima, one of four provinces he visited on Thursday.
The Industry Ministry has initiated a project to set up an open innovation centre for upcountry provinces as a way to bring them into the ministry's flagship policy of developing the competitiveness of small and medium-sized enterprises (SMEs).
The planned open innovation centre comes after the ministry kick-started many projects earlier this year, including the 22-billion-baht Creative Industry Village (CIV), the Industry Transformation Centre (ITC) and the Thailand Innovation Space.
The ministry is always seeking partnerships with local and overseas companies and business agencies for the government's projects, including the latest endeavour.
"The open innovation centre will mark a collaboration with provincial business operators in a bid to provide their technology and innovation to support training courses for local farmers," said Industry Minister Uttama Savanayana. "The ministry aims to improve the competitiveness of both farmers and their products, mainly in the agricultural sector."
The pilot locations for the centre are Nakhon Ratchasima, Chaiyaphum, Buri Ram and Surin. Mr Uttama visited those four provinces on Thursday.
He said the new centre will improve SME efficiency and increase the added value of farm products such as cassava, silk and beef in the Northeast.
Technology and innovation, once embraced by business operators, can be applied by local SMEs and farmers for smart upgrades.
"The ministry's related agencies will team up with local companies and farmers to draw up project plans, expected to completed within a month, then the plans will be proposed to me for approval," Mr Uttama said.
In addition, he said the ministry aims to expand the open innovation centre to other provinces.
The project will connect with the Thailand Innovation Space, which launched earlier this month, as both projects have a similar idea of supporting and promoting local startups and SMEs in their bid to access technology and innovation in the long run.
The Thailand Innovation Space is hosted by three ministries — Industry, Science and Technology, and Digital Economy and Society — and also invites companies to join in partnerships.
Furthermore, the ministry will soon hold SME meetings in Chiang Mai, Chon Buri and Nakhon Ratchasima to present its flagship projects, as officials have high expectations of successful outcomes.
As for the CIV scheme, Mr Uttama said the Tai Yuan village in Nakhon Ratchasima's Sikhiu district will join the project in 2019.
The CIV scheme has received an e-commerce platform from Kasikornbank for local villages and SMEs.
The project is part of the Pracha Rat initiative to increase household income and connect with the local tourism sector to foster community enterprises.