Re/insurers must "truly embrace innovation" to succeed: James Harrison, Dun & Bradstreet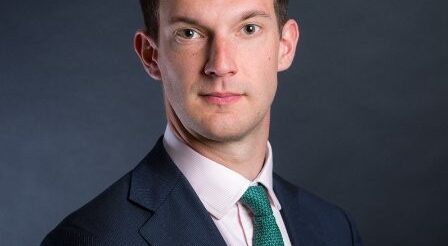 As the insurance and reinsurance industry continues to evolve at a rapid pace, companies need to be more proactive with investments in digital and advanced analytics, according to James Harrison, UKI Head of Insurance at global data and analytics firm, Dun & Bradstreet.
Following the announcement of his new role at Dun & Bradstreet, Reinsurance News spoke with Harrison, previously a Lloyd's broker who has also spent time with Deloitte, Accenture and Miller Insurance Services, about the growing influence of advanced technology and analytics in the re/insurance industry.
"The insurance industry is evolving at an unprecedented pace, accelerated by the global pandemic," said Harrison. "But even pre-COVID, there was already a need for the sector to be more proactive with its investments in digital and advanced analytics, having been slow to embrace true digital change."
According to Harrison, issues surrounding legacy technology and costs associated with complex implementations simply aren't good enough reasons not to invest in new technologies and analytics.
"We live in an on-demand world where customer expectations are changing at a rapid pace and insurance customers like many others expect 24/7 real-time access and a seamless, omnichannel experience as a minimum. The insurers that are unable to provide self-service capabilities and adapt to changing expectations will be likely to miss out on growth opportunities from both new and existing policyholders," he continued.
Historically, the insurance industry has seemed reluctant to change and is often scrutinised for its inability to react and adapt at a faster pace. Harrison alluded to this and stressed that while the subject matter of products provided by UK re/insurers has not been an issue in the London marketplace, the way solutions are structured, with the exception of parametrics, hasn't changed since the Lloyd's market's early days.
"To ensure future success, insurers and reinsurers need to truly embrace innovation and treat it as a distinct business function in the same way as you would accounting, marketing or underwriting. Successful innovation also typically requires specific skills and talent from digital and technology backgrounds to complement their existing insurance underwriting and operational expertise.
"To support the development of new innovative products, insurers also need to get comfortable with utilising new multiple data sources and the insight that can be derived from telematic, sensor-based and AI technologies," Harrison explained.
Adding: "Advances in data technologies across cloud, telematics, sensors and pricing algorithms are changing our understanding of risk and are providing new opportunities for insurers and brokers. Companies who innovate and improve their data capability will be able to expand their traditional service base, maximise growth, cement their value to their consumers and retain their relevance.
"A key starting point is to develop a high-resolution view of customers with a better understanding of their needs, wants and pain points. This will help brokers and insurers optimise their portfolios and inform business decisions about the type of products and services that they provide to their customers."
Ultimately, Harrison feels that data and analytics can unlock growth across all sectors and all lines of business, from traditional specialty lines like marine and energy to the SME and high net worth market.
"In traditional lines there is an opportunity to optimise portfolios, enable dynamic pricing, understand emerging macroeconomic trends and find profit from long term loss leading lines.
"The SME market is typically underserved and misunderstood. Insurers can leverage external data sources to build an understanding of SIC (Standard Industry Classification) codes and implement a more proactive sales strategy by going to market as soon as SMEs become incorporated at Companies House.
"Composite insurers can maximise their growth by breaking down siloes in their product lines and enhancing their understanding of the full product opportunity from their existing high net worth consumer base – High Net Worth individuals are likely to have SME ownerships, wealth portfolios, commercial as well as their general insurance exposures.
"In general, re/insurers could start to take a novel approach to the way they view their commercial policyholders. Rather than just looking retrospectively into risk performance, re/insurers could look forward and use predictive analytics to identify the propensity of their policyholders to grow into successful businesses. Re/insurers could then strategically start their relationship with policyholders at an earlier stage and become a trusted partner throughout their corporate journey," said Harrison.
With the utilisation of advanced tech and analytics poised to unlock growth opportunities, entities stand to be better equipped to face some of the sector's biggest challenges, including the growing protection gap (disparity between economic and insured losses post-event).
With this in mind, Harrison concluded with some thoughts on how improved data and analytics help to increase insurance penetration in both emerging and developed markets.
"Maximising the insight from multiple data sources can help insurers increase penetration into new markets by assessing new risks, developing a much stronger understanding of the insurable landscape and minimising the unknowns. The Internet of Things (IOT) for instance can be used by insurers in determining risk assessment, driving marketing campaigns, processing claims, reducing claims leakage and support product pricing.
"If we look at how some InsurTechs have insured new risks without a comprehensive loss history, they have focused on behavioural economics driven by data to influence the policyholder decision making and ultimately reduce their risk profile. Both traditional and emerging markets can learn from this different approach to policyholders," he explained.
The post Re/insurers must "truly embrace innovation" to succeed: James Harrison, Dun & Bradstreet appeared first on ReinsuranceNe.ws.