Reflections On The Future of Corporate Innovation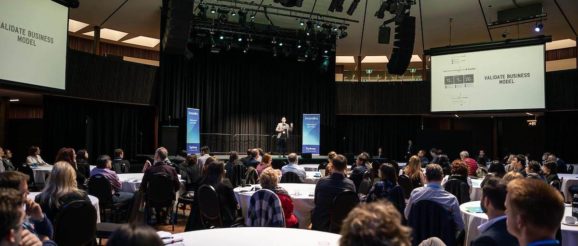 I recently attended Innov8rs Syndey, an intimate event that placed emphasis on working in small groups to share stories and experience.
I was struck by how openly both the speakers and attendees spoke of the trials and tribulations they had faced navigating innovation in a corporate setting. From what was a diverse, exciting and jam-packed few days, I've tried to summarise my key takeaways below:
Technology that threatens to destroy jobs could (and may well) make our lives better
Initially a conversation topic around the dining tables of futurists, it seems we're now all talking about the unstoppable march of AI, and the dystopian future this will provide for those of us not at the helm of the businesses that created it. Build the machines, or work for them.
But, we also know that, with any significant industrial upheaval, new jobs will be created. Tarra Van Amerongen (Fjord) eloquently questioned how we (humans) could use AI to help make us more human – bringing more enjoyment to the work we do by selectively delegating tasks to technology. After all, the best working outcomes are achieved when humans work hand-in-hand with machines – whether it's a 1980's calculator, or a 2018 Tesla car-building robot.
Diversity is difficult. But it's also king.
Innovation is an uncertain, unpredictable, sweaty task, and no one pretends to know all the answers. There have been miraculous leaders of innovation (think: Steve Jobs) but the innovations that happened beneath them sprung from a capacity for integrative thinking – diverse, multi-skilled teams maintaining positive creative bias to reach unexpected, but wildly successful outcomes. As Dom Price (Atlassian) would say, "the lone genius is dead".
The workforce of the future wants demonstrable purpose, not empty claims
Gen Z account for roughly 25% of the population, a bigger cohort than Baby Boomers and Millennials. Anthony Ferrier's engaging talk highlighted that 73% of Gen Z want to work either for themselves, or for a startup that demonstrates alignment with their purpose – exhibiting a general distrust for corporates.
There is a growing trend for businesses run by millenials and Gen Z's to put purpose ahead of profit, and the broader implications of this are not yet clear. The big question is: in the fight for top talent, how do corporates prove their relevance to this generation?
Fear kills businesses through erosion of confidence
Both Dan Toma and Imogen Aitken spoke to the basic ingredients of effective innovation: happy, creatively-challenged, confident staff. Creating psychological safety and stimulating intellects may not be essential to effectively operate a widget factory, but it's critical if you expect your staff to feel empowered to stare disruption in the face and reinvent themselves and the business they work for. Businesses who step-up to drive a growth mindset across their organisation will find themselves focusing less and less on defensive activities, exploring and embracing change to win in market
"Being innovative does not only mean inventing, generating ideas for success, or having more efficient and effective products and services. Innovation can also increase the engagement of your employees by creating a more positive work environment for everyone. On top of the obvious benefits and outcomes of innovation, we need to pay more attention to some of these by-products of the journey to innovation to maximise its impact."– Ning Jia Ong, Deloitte
Disruption defines the future of all industries, so innovation must be central to corporate strategy
For many businesses, corporate strategy is something that's inflexible and immutable, failing to change as quickly as the world evolves. Whilst discussions about 'the pace of change' have become an all too predictable hallmark of innovation talks, it's true that the world is evolving faster than ever, and this is continuing to accelerate.
New, fast-moving market entrants are keeping pace with technological changes far better than the incumbents – better catering to the rapidly evolving needs and expectations of customers. Even those businesses who put their customers at the front and centre of all they do find expectations hard to keep track of.
"As you can't predict the future you need a system that will help you test the future and respond to change" – Dan Toma, author 'The Corporate Startup'
To solve for this, Scott. D Anthony, pointed to Innosights' concept of Dual Transformation – a corporate strategy approach that sees creation of two, simultaneous streams of transformative innovation: the first is a gradual repositioning of the current business – gentle, iterative change. Whilst the second pushes a separate agenda: imagine the business of the future, and build it. Managed separately, these two then merge over time as the business catches up with its own future.
Failure, whether fast or slow, really isn't the route to success
We should avoid measuring innovation activities using the same yardstick as business-as-usual activities. If you're continuously 'failing fast' you probably haven't given your ideas enough time to mature.
Many businesses have adopted variations of 'Lean Startup' methodology – iterative cycles of build, test, learn – continuously finding ways to evolve or 'pivot' around new information. But this only works if the innovation governance framework also adapts. If a real, quantified customer need has been identified, it doesn't make sense to quit at the first sign of failure. Businesses need to reassess their short- and medium-term definitions of success, as non-financial progress is often the precursor to financial windfall.
"Although we generally recognise principles of good innovation process – the importance of diverse teams and the right conditions to foster creativity – in practice many organisations are still not consistently putting the basics in place, which leads to organisational bias and missed opportunities as high potential innovations are killed off too soon." – Robin Scarborough, Deloitte
Remarkable innovation occurs under pressure, but Australia isn't feeling the heat
Dom Price spoke to Australia's remarkable 27 years of continuous economic growth:
"As long as we keep looking down, digging stuff out of the ground, we won't look up, and innovation won't take hold"
I thought this was a perfect provocation for this audience of change makers. Sitting idle won't work for any of us.
As the old saying goes "the best time to fix your roof is when the sun is shining", and it sure shines a lot down under.
---
This is a guest post by Anna Lindberg, Brand Manager Innovation at Deloitte Australia, as previously published here.