Soylent Launches Innovation Lab for Food Tech Startups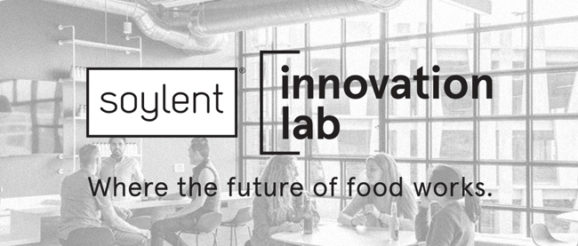 Upon launching, meal replacement drink Soylent married its Silicon Valley origins with the CPG space, using science and technology to fulfill a company mission of making "complete nutrition" accessible and affordable.
Now, the company wants to help others in the food tech space do the same with the Soylent Innovation Lab, a new co-working space designed for similarly disruptive food and beverage brands in Los Angeles.
The company announced earlier this week that it is currently accepting applications from startups that are focused in either food technology, health and nutrition, or cause-related organizations that share Soylent's mission. The project is not an incubator and there are no size requirements for companies considering joining the co-working space; however, early stage startups will be eligible for financial grants to receive the space for free.
"Once we moved into this new space, what we really wanted to start doing as we've had success is to see how we can actually build the food tech and the food community here in southern California," Soylent CEO Bryan Crowley told BevNET today in a phone call. "There's quite a few entrepreneurs in this area, but our goal was to see how we can galvanize them, for mutual beneficial gain."
According to an FAQ, accepted members will sign intellectual property protection agreements and work within Soylent's 30,000 sq. ft. office space, based in The Arts District. Crowley added that part of the incentive to open the Innovation Lab was the absence of existing co-working spaces in the district.
Coworking contracts will require a six-month minimum stay and will operate month-to-month after. Applicants will be notified on their approval status within 10 days of applying. Participating companies will share amenities and meeting spaces and will also have access to mentorship opportunities, strategic resources, and office hours with Soylent executives to learn more about building a successful startup brand. Crowley noted that these educational opportunities are optional depending on the company's needs and preferences.
"[Entrepreneurs] who are using science and technology trying to drive change and disruption, those are who we're targeting for the space," Crowley said. "Building a community is really important to us, and we're able to do that in this idea of a co-working space."
The Innovation Lab will also feature workshops led by outside food and tech industry experts and include lessons on branding and marketing, sales and retail strategy, innovation and manufacturing, and nutrition and food labeling.
Soylent, which launched as an ecommerce brand in 2013, has significantly grown its retail presence in the past year, expanding into CVS, Walmart, and 7-Eleven stores nationwide. Most recently, the company announced it had hired former Califia Farms executive Demir Vangelov to serve as CFO and added new VP of Digital Acquisition and E-Commerce and VP of Brand Marketing positions. Soylent also rebranded its products for the retail market and added new Strawberry and Vanilla flavors.
"We'd love to see these companies be successful and we'd love to help and be a part of that," Crowley said. "At the same time it does a lot for us. You get that startup energy and that culture that we want to continue to foster here at Soylent, even as we grow. That's a big benefit for us, because we're going to see these great entrepreneurs really pushing the envelope and trying to change the world and that's going to be exciting for me and my team as well."