Register for IRENA Innovation Week 2018!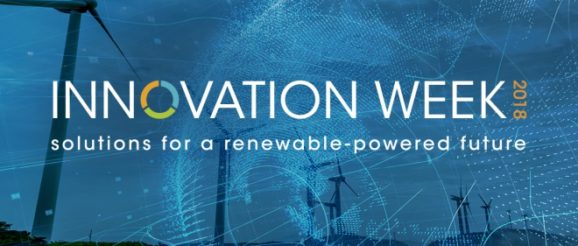 IRENA Innovation Week is a three-day event that unites leading thinkers and policy makers to explore disruptive innovation aimed specifically at accelerating a transition to renewable energy. All members of the media – print, and digital – are invited to register to attend (and report on!) IRENA Innovation Week happening in Bonn, Germany from September 5 to 7.
Themed "Solutions for a Renewable-Powered Future", it will be an action-focused gathering of around 250 leading companies, innovators and policy makers at the forefront of renewable energy innovation. The meeting will explore how innovations in enabling technologies, business models, system operations and sector coupling can accelerate the renewable power transition.
Ministers and senior executives from around the world will be in attendance, including:
HRH Princess Abze Djigma of Burkina Faso
Initiator and leader of the 'MAMA-LIGHT® Initiative for Sustainable Energy.
Thomas Duveau
Chief Strategy Officer, Mobisol.
Andreas Kuhlmann
Chief Executive, German Energy Agency
David Nelson
Executive Director of Climate Policy Initiative – Energy Finance
Sergey Kiselev
Sergey Kiselev co-leads eMotorWerks' (Enel X) European business and is in charge of company's operations and hardware
Paul Massara
CEO of Electron and a member of the Committee on Fuel Poverty advising the Secretary of State for Energy on energy strategy
Chunguang (Charlotte) Wang
Founder and CEO of EQuota Energy
Bart Biebuyck
Executive Director of the Fuel Cells and Hydrogen Joint Undertaking (FCH JU)
For registrations and interview requests please email Sasha Ramirez-Hughes 
The International Renewable Energy Agency (IRENA) is an intergovernmental organisation that supports countries in their transition to a sustainable energy future. IRENA serves as the principal platform for international co-operation, a center of excellence, and a repository of policy, technology, resource and financial knowledge on renewable energy.
With 158 Members (157 States and the European Union) and 25 additional countries in the accession process and actively engaged, IRENA promotes the widespread adoption and sustainable use of all forms of renewable energy, including bioenergy, geothermal, hydropower, ocean, solar and wind energy, in the pursuit of sustainable development, energy access, energy security and low-carbon economic growth and prosperity.