Ring the doorbell just by moving your hand – DoorBird's latest innovation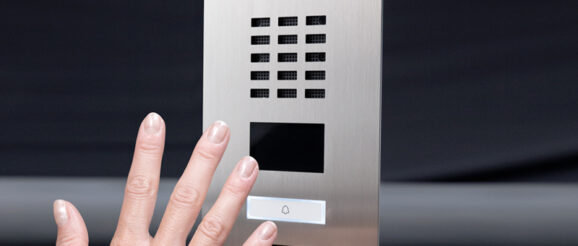 DoorBird launches another innovation: The new contact-free call button module enables doors to be opened without having to touch them.
This technology was developed to promote safe, simple, and aseptic use, and not just in public areas. Ringing the doorbell by waving is the perfect solution for any building with a high level of foot traffic. Depending on the configuration, a gesture in front of the door intercom system can either ring the doorbell or open the door instantaneously.
A germ-free environment is critically important in public facilities such as hospitals, medical practices, and nursing homes to limit and prevent health risks for people. An IP video door station with a contact-free call button module can be useful in such places. Visitors can intuitively ring the doorbell by making a simple hand gesture and are also given direct visual feedback from the module.
The intelligent motion sensor detects both hand movements as well as a hand coming within 10 cm / 4 inch of the module. This also allows you to ring the doorbell even when holding a package in your hand, for instance. Like a classic DoorBird call button, the module performs actions that can be freely configured on all DoorBird door stations, such as sending out a call signal as a push notification, triggering a relay or HTTP(S) command, or starting a SIP call.
The contact-free call button module is compatible with DoorBird D21x series' IP video door stations and is available to order now. The scope of delivery includes the sensor panel cover with information provided in German, English, Spanish, French, and Italian.
Find out more about DoorBird here