Shake Shack Innovation Kitchen: Photos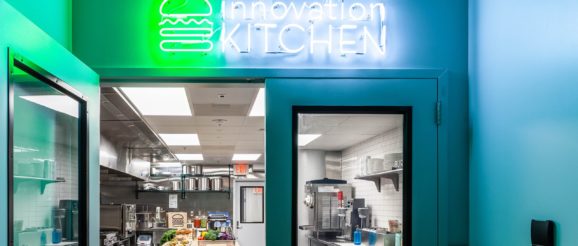 Shake Shack's Innovation Kitchen is opening in NYC's West Village.
Like most of Shake Shack's new restaurants, there are digital ordering kiosks in place of cashiers.
The restaurant was designed to reflect the neighborhood its in with greenery, outdoor seating, and an art installation by local artist Josh Cochran.
The new Shake Shack is made almost entirely from recycled materials. The table tops are made from reclaimed bowling alley lanes.
The menu at the new Shake Shack will rotate…
…and all of the new menu additions will be tested right downstairs in the Innovation Kitchen.
Shake Shack will be testing things like the Humm Burger, Piggie Shack Burger, and Eel Burger in its new kitchen.
Most of the new menu items will be chef-driven, and customers will weigh in and give feedback on what they think should be added to the menu permanently.
It also has space for Shake Shack's culinary team to develop new recipes.
The new restaurant and test kitchen opens on Tuesday in the West Village.