Skip House: Where Tradition Meets Innovation in the Heart of Beijing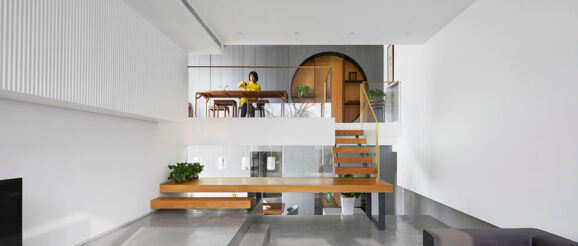 In the west district of Beijing, a duplex apartment, dubbed the Skip House, has been designed by KiKi ARCHi. Nestled within the vibrant city, the apartment is home to an owner and her family of four, along with the grandparents who visit on occasion. The Skip House is designed so that the different generations can come together, allow their diverse lifestyles to merge, and where emotions can blend harmoniously.
The magic of the 300-square-meter Skip House lies in its "half-floor living room," a design that seamlessly connects the different spaces, fostering a sense of togetherness while maintaining privacy. An eye-catching cement and wood staircase not only connects the two floors but also offers multi-functional open platforms – a small wooden one doubles as a desk for the kids and a more spacious micro-cement platform below that can be used for seating while also transitioning into a console for the TV. It's a multi-layered living scene where every family member's needs find a perfect spot.
But the innovation doesn't stop there. Downstairs, a well-organized "box" concept delineates the living areas, with the kitchen island as the central hub. The thoughtful design enhances functionality while retaining an open, airy atmosphere.
Up the wooden stairs, a serene, modern tearoom awaits. Beyond its use as a tearoom, a round cutout serves as a display shelf while doubling as a secret passage to the elders' private room.
The color palette throughout gives nod to the owner's appreciation of Chinese culture, with black, white, and gray complemented by wood and micro-cement.
Photography by Koji Fujii.
Caroline Williamson is Editor-in-Chief of Design Milk. She has a BFA in photography from SCAD and can usually be found searching for vintage wares, doing New York Times crossword puzzles in pen, or reworking playlists on Spotify.
You can follow Caroline Williamson on Twitter, Facebook, Pinterest, Instagram, and Linkedin. Read all of Caroline Williamson's posts.