Slideshow: Conagra Brands' summer of innovation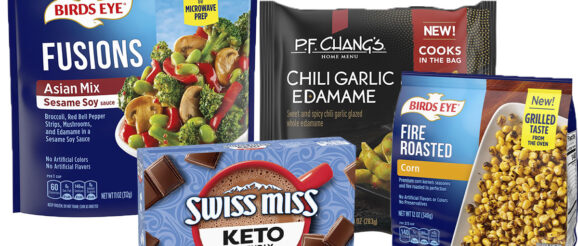 CHICAGO — Conagra Brands expanded its portfolio by launching more than 50 products across its various frozen and shelf-stable brands.
The company can be seen tapping into trending flavors for consumers, including fire-roasted vegetables and frozen meals inspired by restaurant fare. The introductions to the company's various brands come after a quantitative approach that allowed the company to overhaul its various businesses.
"Innovating to meet the needs of consumers is a top priority for our team," said Burke Raine, president, frozen and refrigerated, Conagra Brands. "Our newest food features on-trend recipes and relevant formats that deliver great taste, quality and value. We're excited for these new items to become household favorites."
Despite a common these over the past few years in food and beverage being the resiliency of the US consumer, Sean M. Connolly, president and chief executive officer of Conagra Brands, Inc., noted how it appears that consumers are changing their behaviors.
"… Food companies are starting to wrap pricing in the year-ago period, and dollar sales are coming down as expected, but the rate of improvement in volume recovery is lagging," said Mr. Connolly during a July 13 conference call to discuss fiscal 2023 results. "That suggests new consumer behavior shifts beyond the initial elasticity effects that occurred when pricing actions were initially taken.
For the fiscal year ended May 28, gross profit increased 15% to $3.3 billion, and adjusted gross profit increased 16% to $3.3 billion as the benefits from higher organic net sales and productivity offset the negative impacts from cost of goods sold inflation, unfavorable operating leverage, and elevated supply chain operating costs, according to the company. Gross margin increased 198 basis points to 26.6%, and adjusted gross margin increased 226 basis points to 27.1%.