Slideshow: Nestle's year of innovation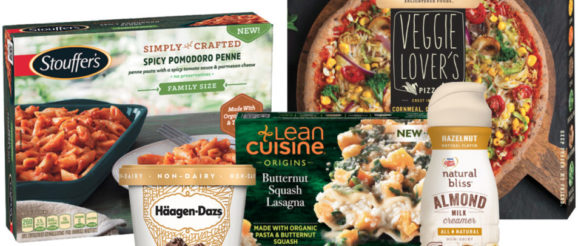 VEVEY, SWITZERLAND — After selling its U.S. confectionery business earlier this year, Nestle S.A. laid out the keys to future growth in its remaining categories. Innovation in the company's heritage brands topped the list.
"There is rapid change in the way consumers eat, shop and engage with brands and also what we expect from brands in terms of social value as well as experience from products," said Rui Barbas, Nestle USA's chief strategy officer, during an Aug. 1 interview with Food Business News. "There is a fundamental transformation going on."
One of these consumer shifts Nestle is pivoting to meet is the plant-based movement. For example, the company's Coffee-Mate brand launched a line of Natural Bliss plant-based coffee creamers in January.
"Coffee-Mate remains a leader in the coffee creamer category for one important reason – we are relentlessly focused on quality and innovation to expand our product portfolio while meeting changing consumer demands and lifestyles," said Daniel Jhung, brand director for Coffee-Mate. "We know the increasing popularity of plant-based, non-dairy creamers is not just a trend, but a consumer preference that is here to stay. Using just a few simple ingredients not only expands our Natural Bliss offerings, but delivers a delicious, creamy and flavorful option that Coffee-Mate Natural Bliss is known to provide."
Plant-based pizza joined Nestle's Sweet Earth Foods brand portfolio in June, with crust made from a blend of ancient grains, carrot and rosemary. The lineup includes the Veggie Lover's pizza. The Protein Lover's pizza, the Herb Lover's pizza and the mushroom-loaded Truffle Lover's pizza.
"Plant-based eating is good for the planet and good for you," said Brian Swette, president of Sweet Earth Foods. "Sustainability is at the core of everything we do, beginning with the ingredients we use. Our customers are looking to add more vegetables and plant-based protein to their diet, and we are continuing to serve and empower them with our new line of frozen pizzas."
In July, Nestle introduced Lean Cuisine Origins, a new line of plant-based meatless meals made with at least 70% organic ingredients. Varieties include butternut squash lasagna, coconut chickpea curry, mushroom and vegetable shepherd's pie and Sicilian-style pesto with lentil pasta.
"Lean Cuisine culinary experts selected wholesome and accessible ingredients to put a new, flavorful twist on plant-based proteins and vegetables, playing at the intersection of a desire for meatless options and an increasing demand for organic foods," Nestle said. "In fact, 23% of consumers reported they want more choices incorporating plant-based proteins on shelves, while a recent survey of Americans shows their appetite for organic foods has grown more than ever before."
This consumer demand for organic offerings also fueled innovation in Nestle's Stouffer's brand. In January, Nestle expanded its Stouffer's lineup with new Simply Crafted frozen meals made with organic ingredients. Varieties include spicy pomodoro penne with organic pasta and tomatoes, and white cheddar macaroni and cheese made with organic cavatappi pasta.
Nestle also boosted this "heritage brand" with a new Urban Bistro line and Complete Family Meal Kits in August. The Urban Bistro frozen meals consist of eight recipes created with artisans such as Wisconsin cheese makers, Kentucky Bourbon distillers and Alabama beer brewers. The Complete Family Meal Kits feature pre-chopped and pre-measured ingredients to make a meal in fewer than 25 minutes that serves four.
"These are examples of taking consumer brands and constantly aligning them with where consumers are going," Mr. Barbas said.