Sonic Team head says "there's always room for innovation" in the 3D and 2D series – My Nintendo News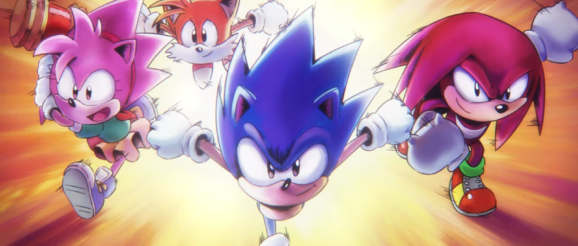 Sonic Team head says "there's always room for innovation" in the 3D and 2D series
Sonic Team has stepped up their game as of late with both Sonic Frontiers and Sonic Superstars, which, when compared to the abysmal Sonic Forces, are both masterpieces. Asked about whether they feel they have set a new standard for themselves with both the 3D and 2D series with their games, the head of the Sonic Team, Takashi Iizuka, replied that he feels there is always room for innovation in both series. While fans expect certain elements to be present, they are always considering what they could add to the games to bring a new standard, and they don't want the series to stagnate. Here's what Mr. Iizuka said:
3D Sonic games have experimented a lot over the years. With Sonic Frontiers and Sonic Superstars, have you now settled into a new standard for both 3D and 2D Sonic games, or is there still room for innovation? Will we see alternating releases between each style?
"There is always room for innovation. Of course we understand what it is that players expect from a Sonic game, but we never want to be seen as standing still. Sonic Frontiers is a fantastic new title for us, and the fan response to our Open Zone gameplay was everything that we could have hoped for. That said, we definitely think there is room for traditional 2D Sonic games to stand side-by-side with the 3D games, and that is what led us to Sonic Superstars."
I'm glad that they're doing more creative stuff with Sonic again. For a while there they were too content with playing it safe while Sonic's whole identity is pushing up against the glass ceiling until it shatters completely.
I just hope that the next 2D game we get is modern instead of classic; no offense to classic fans, but I miss the advance and Rush era of 2D gaming
There is no innovation in Superstars though. Not sure what they're talking about. Unless making one of the worst 2D Sonic games is innovative to them.
there is no innovation in frontiers either, the "open zone" thing they claim is just a gigantic adventure field from the dreamcast era, also if we are honest Bowser's fury did the open zone better than frontiers.
Without a doubt. Never really thought about the comparison to Bowser's Fury. I agree.
Thanks, also as it has been said lots of times before: Sonic speed is one of its main weaknesses (apart from Sega's meddling), how can they innovate without compromising sonic's speed? of course it is possible but sometimes i wonder if that question crosses their minds.
With Mario you can go anywhere without almost no limitations, sonic in the other hand…
Sega should try giving the license to Nintendo and see what they can do with the series or at least give free reign to christian whitehead and co.
I got a better one for them. "There is always room for improvement for your 2D and 3D Sonic games." No shortage of room there. None at all. Definitely not
"Sonic Team has stepped up their game as of late with both Sonic Frontiers and Sonic Superstars, which, when compared to the abysmal Sonic Forces, are both masterpieces."
End of the year joke already? Both games are absolutely lackluster, people only liking them because they're easily impressed.
Frontiers: the "open zone" concept isn't anything new; Banjo-Kazooie did it decades ago. Plus they couldn't even explain the concept. The story heavily borrowing from Adventure in order to "develop" (read: redo the same character arc) for TKA. The ambient is completely bland, not at all Sonic-like, it gets repetitive in the last two islands, and Cyber-Space was extremely flawed.
Superstars: another automated game, borrowing way more from the Rush series than the classic one. Completely unneeded multiplayer, extremely gimmicky. Basically a game no one asked for and ST still refuses to give people what they want: a game with momentum-based speed. Guess the salt of being shown up by the Mania team still runs strong on ST.
And people can hate on Forces all they want, but at least the soundtrack was stellar. Frontiers, with only a couple good tracks, and Superstars, with not a single one worth mentioning, are trailing way behind.