Spotlighting Innovation: Employer Brand Campaign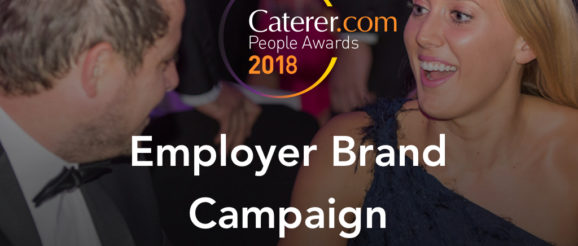 Our Caterer.com People Awards shine a well-deserved light on your hard work and incredible breakthroughs in hospitality recruitment, development and retention. They are the perfect way to ensure your teams get the recognition they deserve.
Highlighting Employer Brand
Your brand, the way you communicate will be the first thing an applicant sees. Keeping your employer brand strong takes constant work and making it a living thing can go a long way in helping candidates want to stay and grow with you.
For this category, the judges wanted initiatives that identified, developed, communicated and maintained a strong employer brand and successfully leveraged it as part of a wider recruitment strategy.
This year's shortlist is:
AccorHotels
Devonshire Hotels & Restaurants Group Ltd
Las Iguanas
Mandarin Oriental Hyde Park London
Splendid Hospitality Group
The judges for this category were:
Alex Buchanan – Editor, CateringScotland.com
As editor of CateringScotland.com (CS) Alex Buchanan has over 15 years' experience in the hospitality-publishing and events sectors.
Acquiring Catering Scotland (CS) magazine with business partner Gordon Clark as part of a management buyout in 2003, the duo established the CIS Excellence Awards the following year.
In the past decade they have launched and established CateringScotland.com as the industry's go-to resource for the catering, tourism and hospitality sectors in Scotland, and have continued to grow the CIS Awards into the leading corporate awards programme for the sector.
With plans afoot to expand the CIS Excellence brand into new sectors in 2018, Alex is enthusiastic about the future of the hospitality industry. Married with three children and no time for anything, he lives in the Scottish Borders.
Caroline Lowe – Director of Human Resources, Hilton London Heathrow Airport Terminal 5
Caroline has held Director of HR and Cluster People Development roles throughout her career in the hospitality industry within Hilton, Rezidor and Marriott hotels.
Joining the HILTON T5 team as part of the pre-opening team, Caroline has established the hotel as an award winner in people management initiatives and achievements, receiving recognition from Hilton Brand awards, Hotel Catey's and the People Awards.
Caroline has led the team to develop the first Supported Internship Programme for young people within the hospitality industry, which is now it is fifth year of success, offering ground breaking employment opportunities and supporting a diverse new recruitment stream, and unique opportunities for our team to fulfill the HILTON T5 vision.
Dawn Wynne – Head of HR, Dalata Hotel Group
Dawn is a graduate of Glasgow Caledonian University and has spent her entire working career in hospitality.  Originally from an Operational background, and having worked for Dalata Hotel Group plc for ten years Dawns role as Head of Human Resources sees her with responsibility for driving the people strategy in this progressive and dynamic plc.
Employing over 4000 people in the UK and Ireland Dawn believes that the key to continued success, and vital to the continued expansion of the company is a HR Strategy that focuses on a culture of continuous learning & development, talent development and most importantly a culture that is all about their people. This strategy, supported by the group's benefits structure that involves opportunity to own and benefit from shares in the company along with unlimited career opportunities are one of the many reasons Dawn is so proud to be leading the Group HR team and HR Managers across the Maldron and Clayton Hotels in Dalata Hotel Group plc.
Janene Petorious – Director of People, The Ivy Collection
Janene was born and raised in South Africa where she picked up a keen interest in the hospitality industry very early on. From the age of 16 Janene worked in restaurants, taking on a variety of roles during her studies, eventually graduating with a degree in Graphic Design.
In 2001, Janene travelled to the UK where she embarked on a career in hotels and restaurants. After five years in operational roles, Janene decided to apply her passion for people by pursuing a career in Human Resources.
In February 2003, she joined Gaucho and eventually took the role of Head of Staff Training and Development where she implemented The Gaucho Academy. In April 2013, Janene joined Prezzo as Training and HR Director, before moving to The Ivy Collection as Director of People in February 2017.
As Director of People, Janene's focus is on formulating and embedding a people-centric culture, this includes organisational development, recruitment and retention, training, and developing a strong company ethos.
During her spare time, Janene enjoys travelling, creative arts and eating out.
Julia Murrell – Director of People and Development, Firmdale Hotels
Julia Murrell joined Firmdale Hotels in 2015 and has full responsibility for providing proactive HR across the eight boutique hotels in London and two in New York through building and developing HR strategies to meet business objectives, including attraction, retention, engagement, learning and development.
Prior to this she was Director of People and Development at Le Manoir aux Quat'Saisons, Group Talent Manager and People and Development Manager at Malmaison and Hotel du Vin. Julia has some 15 years' experience working within HR in the hospitality industry.
Julia believes that the key to an engaged team, high standards of service and success is to build on the heart and soul of the business – great communication, ensuring there is something for everyone and to respect everyone's feedback to develop a great place to work.
About the Shortlist
AccorHotels created a program dedicated to the well-being and engagement of team members called 'Well-B'. By making adjustments to the rota, self-rota, staff food, social life, work/life balance, uniforms and celebrations in the hotels, they expected that employee engagement would increase. As well-being is measurable, they created a score-based online survey to assess engagement at the first and final stages of the project in order to track results at the benchmark hotels. After four months of implementation HR observed significant results in employee well-being (+8pts), talent engagement, turnover reduction (-10pts) and quality results improvements (+4pts). It was evident to the team at Accor that wellbeing and engagement not only has an impact on employee performance, but also on hotel performance and guest satisfaction. In summary, happier talents result in happier guests and happier businesses
Mandarin Oriental Hyde Park London
Along with a well-publicised multi-million pound refurbishment, Mandarin Oriental Hyde Park refurbished their employer brand. The hotel's new vision was to be "Relevant and Different". Through research they discovered what is it about the hotel that people like and what makes them want to stay and come back. They promoted new elements, breathing new life into the workplace and accentuated key words  More Fun; Wellness; Entertain; Give Better Service; Provide Interactions; Savvier Than Before; Innovate and Provide a Sense of Place. It paid off with 211 new and current vacancies being filled within a five-month period, in time for the hotel's relaunch and 98% of colleagues understanding Mandarin Oriental Hyde Park's vision and mission.
Devonshire Hotels & Restaurants Group Ltd.
Devonshire needed their values to be eye catching and to update their profile within the labour market. They worked with professional graphic designers to that end. Using bright colours and photos of staff in action, they came up with some great literature, logos and email signatures. They then needed to communicate these new values to all staff. Developing a workshop that all staff would attend, they explained why these values were important and how they would help the business whilst also demonstrating how each of them can "live" the values in their own day to day role. Devonshire's in-house Trainer ran these workshops and each one was attended by the Managing Director who would introduce the session. This really pushed home how important this all was for the business. Overall staff turnover was at 86.7% before the values were re-defined. One year later it was at 76%, two years later it was at 59.8% and three years later it is at 50%.
In October 2017, Las Iguanas kicked off their brand awareness recruitment campaign, Where Do I Work? The objective was to create engaging and interactive videos to promote Las Iguanas as a brand and employer, and attract new managers to the business. This campaign solely ran across social media and was designed to drive traffic through gamification towards their people website, where candidates could apply for management positions. Las Iguanas aimed to target passive candidates that may not be actively looking for work but could be persuaded to apply regardless. Since the campaign started, the company has seen a huge increase of direct management applications and offers that have come through their people website and Applicant Tracking System. Management applications in October 2017 were the highest they have been since January 2017 and compared to the previous quarter, they made 75% more direct offers of managers.
Who will win the Employer Brand Campaign category?
Be there at the 2018 Caterer.com People Awards at the Park Plaza, Westminster Bridge, October 1st to find out.