StartupCincy Week to highlight Cincy as hub of innovation, opportunity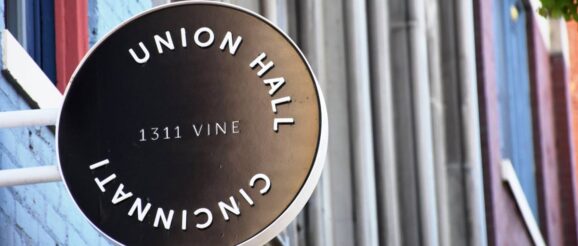 Over-the-Rhine is set to become the center of the startup world with the return of StartupCincy Week.
The annual summit is attracting more than 1,000 attendees to the historic Cincinnati neighborhood from Monday, Oct. 23, through Thursday, Oct. 26 for programming and networking events focused on technical innovation and supporting budding small businesses.
The four days at Union Hall will feature dozens of workshops and presentations from founders and experts on topics such as harnessing the power of artificial intelligence (AI), accessing capital and expanding diversity in technology.
Daily programming will feature mainstage speakers. Highlights include:
Cintrifuse Annual Meeting: Greater Cincinnati business and civic leaders discuss the state of the regional innovation ecosystem and future opportunities.
From Dorm Room to Boardroom: Academic leaders and student founders from five regional universities – Miami University, Xavier University, Thomas More University, Northern Kentucky University and University of Cincinnati – share how their entrepreneurship programs and initiatives attract talent to the region.
The Transfer of Technology: Regional experts in intellectual property development, technology transfer and commercialization discuss how they drive innovation, collaboration and growth in the biotech ecosystem. 
The Corridor of Commerce: A conversation on why logistics and digital commerce represent the most significant organic growth opportunity for our region in decades.
"This year's theme of Homegrown Hustle celebrates Greater Cincinnati's entrepreneurial heritage and the collective drive to foster a vibrant startup and innovation culture," said Donna Zaring, director of external relations at Cintrifuse, lead organizer for the event.
Cintrifuse is a Cincinnati-based nonprofit focused on building a sustainable tech-based economy across the region. It advocates for entrepreneurs leading high-growth tech startups in the hopes of attracting and retaining their business and attracting top talent to the area in the process.
Today, the organization works with nearly 150 local startups and serves as the lead catalyst for StartupCincy.
Cintrifuse created StartupCincy Week as a way to bring together thought leaders, entrepreneurs and startups – both local and from across the country – to share insights about technical innovations and best practices. However, it's also an opportunity to highlight what Greater Cincinnati can offer emerging businesses.
Events begin Monday night with the gener8tor Cincinnati 2023 Accelerator Showcase. The free event at Woodward Theatre features presentations by four national startups who've taken part in a three-month incubator program in OTR.
Each participating team received a $100,000 investment from gener8tor in return for 7.5% equity in their company. During the upcoming event, they'll pitch their concepts to those in attendance in the hopes of securing additional seed funding.
StartupCincy Week isn't only about supporting businesses inside Union Hall. It's also about bringing attention to those already in operation along Vine Street and throughout the rest of OTR.
This year marks the first formal partnership with the Over-The-Rhine Chamber of Commerce, which has collaborated with surrounding establishments to offer exclusive offers to attendees. Daily happy hours and meetups will take place at several venues throughout the neighborhood, including the Samuel Adams Tap Room.
"As a Chamber, our goal is to continually support small businesses by being an extension of this event," said OTR Chamber Director Julie Clayton. "We see value in helping to connect entrepreneurs with industry leaders, innovators and game changers, which is part of our Chamber mission."
The post StartupCincy Week to highlight Cincy as hub of innovation, opportunity appeared first on Movers & Makers.