Supporters rally for Mayor TenHaken's Innovation and Technology Director pick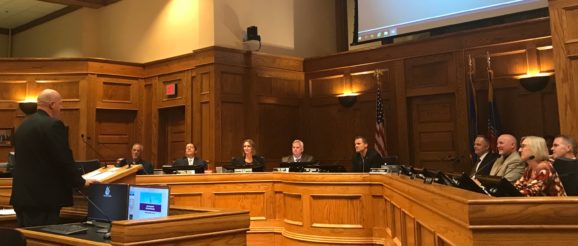 Supporters of the man Mayor Paul TenHaken tapped earlier this month to lead a newly formed city department came out in droves Tuesday night to urge City Councilors to confirm his appointment.
After Jason Reisdorfer, a Sioux Falls entrepreneur and former Parks and Recreation Board member, was announced as the mayor's choice as director of Innovation and Technology, Councilor Theresa Stehly quickly questioned the selection and raised concerns about his commitment to government transparency.
But those concerns didn't hold water with her colleagues on the City Council, who voted 7-1 to confirm his appointment.
"You are a motivator. You're a people person. And I believe you are the person for the job," Councilor Rick Kiley said before casting his vote of support.
Stehly, though, didn't back down. Attending the meeting remotely through the phone system at Carnegie Town Hall due to a family health situation, she mentioned a back and forth exchange she had with Reisdorfer on social media in late 2017 regarding the city's process for selecting a new golf course management firm, in which she says she was treated disrespectfully.
She also questioned Reisdorfer's qualifications in comparison to Sue Quanbeck Etten, the city's former Central Services Director who was let go to make room for the new position of Innovation and Technology.
"In my two and half years as a city council member, I've always been treated with the utmost respect publicly by our department heads," she said attempting to illustrate the contrast with her relationship with Reisdorfer.
Upon earning confirmation, the room full of Reisdorfer supporters, including his co-workers at Weisser Distributing and members of his church congregation, erupted in applause.
Reisdorfer, who will officially begin serving at City Hall in November, said he's committed to being a productive and positive public servant.
"Solving tough problems is what I do, it's what drives me and it's what excited me about this position," he told the Council.
Reisdorfer, 38, is a Sioux Falls native and attended Augustana University. In 2012, he sold his restaurant business to begin a new venture with friend Eric Weisser, owner of Weisser Distributing, which sells auto-body tools and supplies. Together, the two turned the company into one of the fastest growing businesses in South Dakota.
As director of Innovation and Technology, Reisdorfer will oversee the divisions of Geographic Information Systems (GIS), Information Technology, and Communications in Sioux Falls city government, and will be tasked with finding new approaches to city challenges and opportunities.
Read or Share this story: https://www.argusleader.com/story/news/city/2018/09/18/supporters-rally-mayor-tenhakens-innovation-and-technology-director-pick/1353865002/
Share This Story!
Let friends in your social network know what you are reading about
Supporters rally for Mayor TenHaken's Innovation and Technology Director pick
Council confirmed the appointment of Jason Reisdorfer with a 7-1 vote Tuesday night.
Sent!
A link has been sent to your friend's email address.
Posted!
A link has been posted to your Facebook feed.