Team Black Ops wins 2018 NCB Innovation Internship Challenge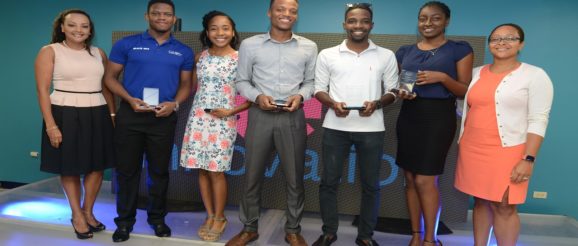 Team Black Ops emerged victor at the recent National Commercial Bank (NCB) Innovation Internship Final Pitch event, bringing to life cutting-edge solutions geared towards optimising the efficiency of operations at NCB subsidiary, Advantage General Insurance Company (AGIC).
This year, the grueling 5-week Innovation Internship for university students sought to generate solutions to be added to the backlog of the bank's Agile Labs. These exist to enhance customer experience through the development of technological solutions.
Comprising University of the West Indies, Mona students, Cheser Adams, 21, Jo-Gianna Hall, 20, Jesse James, 19, and Shawn Miller, 20 along with Howard University student, Marlon Brooks, 20, Black Ops won the Excellence Award for Best Recommendations, walking away with trophies and US$3,000. Miller also took home the Research Guru and Team Player Awards for finding the most research data to support his team's presentations and consistently motivating his team and pulling them together throughout the competition.
Black Ops worked along with 10 other interns to map  customer journeys, identify pain points for each journey, develop customer personas and conduct stakeholder analyses for three of NCB's subsidiaries: NCB Capital Markets (NCBCM), NCB Insurance Company (NCBIC) and AGIC.
"I am delighted because they really did an excellent job identifying the pain points and with a little tweaking we can really find the right solutions," said Ruth Cummings, AGIC Vice President, Channel Management and Underwriting, and member of the panel of judges. 
The winning pitch which also won Team Excellence Award for Best Pain Point Analyses and Problem Definition, presented an online insurance solution dubbed, UX, UI, U. According to James, this customer-centric approach to auto insurance will assist AGIC clients in buying and renewing insurance online, as well as reporting claims with more efficiency, expediency and ease.
With a three-tiered approach to insurance, including in-branch digital upgrades, online insurance transaction solutions and usage-based insurance solutions, the team believes its solution can solve a serious issue for the insurance giant.
Other pitches included online investment banking using a virtual banking system, and online self-service life and health insurance solutions.
With more than 2,000 applications worldwide, the third annual Innovation Internship organised by NCB's Innovation team returned with the same vision, but a different format.
"This year we moved from the individual-centric approach and we put the interns in teams and exposed them to the agile way of working, like designing thinking process mapping and they came up with some powerful solutions and really insightful presentations. They gave us ideas based on what a totally different generation and demographic would like. This is important because understanding how they see the world is crucial for the future of our business," Nadeen Matthews Blair, Chief Digital and Marketing Officer said.
Matthews Blair commended the teams for their cutting-edge solutions and explained that this internship aligns with the NCB Financial Group's resolve to gather innovative solutions from various sources, not just internally.
But beyond the benefit for NCB, the interns admit that they too have profited from the programme.
"I think that the NCB Innovation Internship programme is unparalleled. Our having access to the same resources that people in high positions, who make decisions have was impressive. Jamaica is going through a pivotal moment in its economic growth and I've seen how NCB is undergoing strategies to adjust to that and appeal to a changing demographic," said Sean Morgan, who studies Spanish and Economics in the United States.
For the latest news, download our app at http://bit.ly/GetALoopJM for Android; and at http://bit.ly/GetiLoopJM for IoS.