Technology: Nigeria establishes Laboratory for Startups Innovation – Voice of Nigeria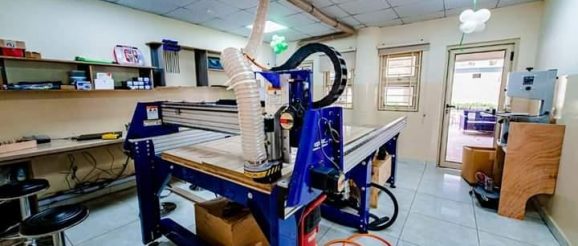 Nigeria has established a Fabrication Laboratory for Startups Innovation to improve local content development and  Indigenous Technology.
The centre is a pilot project named ABUJA LABFAB 1.0 which is in line with the implementation of Nigeria's National Digital Economy Policy and Strategy (NDEPS).
It is also the engine of the implementation of ideas, and innovation that serves all the entities within an ecosystem.
While commissioning the FABLAB 1.0 in Abuja, the nation's capital, the Director-General of the National Information Technology Development Agency (NITDA), Kashifu Inuwa said it is part of the agency's effort to make Nigeria an innovation hub.
He added that the laboratory would encourage all digital innovators and makers to drive their ideas from inception to impact.
"The FABLAB maintains an open access policy to allow it to serve as a digital innovation accelerator for all innovators and makers. It allows open-production and public access to aid innovation and entrepreneurship activities. "
With the insecurity in the country, Inuwa explained that the centres would provide opportunities to produce products that could improve security
 "You can fabricate a drone, you can fabricate a personal resilient vehicle that can detect IED and so on. This can help us to Fabricate a lot of IT equipment that can be used to improve our security and defence. You can fabricate Drones, you can equip drones with cameras and other intelligence equipment, You can fabricate mobile robotics that you can use to enhance our security situation."
According to Director General  "This is a pilot we are Piloting, this is why we named it Abuja 1.0. which means we can have more of this facility in Abuja and we can extend it to others parts of the country. So we already have IT hubs and innovation Labs across the country. So we are going to upgrade them and equip them with this kind of state of art facility as well."
Inuwa said that the Lab is open and accessible to all Nigerians in line with its policies this will enable hands-on digital fabrication, skills training, and capacity building.
He added that this will to further boost digital innovation awareness among Nigerian youths, visitation and tours of the lab facility by schools, universities, and research centres are encouraged.
"We are going to train our people here remotely and whoever is trained here will be part of the Fab Network so that they can also train on other facilities and they can set up the facility as well and also most of the consumables are things we can get locally here in Nigeria and also it provides an opportunity to collaborate with other fab labs around the globe."
The Coordinator of the National Centre for Artificial Intelligence and Robotics (NCAIR) Mr Garba Ya'u said the FABLAB has state-of-the-art equipment that includes Printed Circuit Board (PCB) production equipment, Computer Numerical Control (CNC) machines, 3D printers, servers, Graphics processing units (GPUs), and other things.
He further explained that the centre is; "A small-scale digital fabrication workshop equipped with an array of flexible computer-controlled tools that cover several different length scales and various materials, with the aim to make almost anything. It will enable the centre to prototype Research and Development ideas and produce technology-enabled products."
The lab is registered under the Fab Foundation a global organization that facilitates and supports the growth of the international FabLab network as well as the development of a regional capacity-building organization and is registered under MIT(Massachusetts Institute of Technology).