The Aeromotive Group: Building on a History of Innovation at SEMA 2023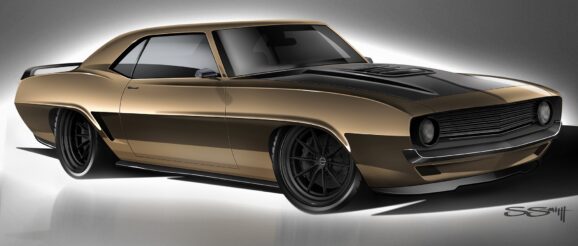 The Aeromotive Group will showcase an innovative collection of new products across its portfolio of premier brands and unveil a 1969 Camaro from Lopez Performance. Visit booth #22743 in Central Hall to witness the big reveal
For the first time at SEMA, The Aeromotive Group is bringing together all its renowned brands under one roof, located at booth #22743 in Central Hall. In addition to an array of new products, a show-stopping build will be unveiled, exemplifying cutting-edge product innovation and epitomizing what the brands have to offer across multiple performance categories from fuel and fluid delivery to ignition, exhaust, and more.
Designed by award-winning automotive designer, Sean Smith, and built by Lopez Performance, The Aeromotive Group is honored to present the "Illicit" Camaro, which will be officially unveiled on Tuesday, October 31st in booth #22743 by Jarod DeAnda. All SEMA visitors and attending media are invited to join.
"Illicit" serves as the ultimate platform to showcase the excellence of The Aeromotive Group's leading brands and products. With the expertise of Lopez Performance, known for its flawless execution and painstaking attention to detail, this premier build demanded only the best performance products under the hood and incorporated into the powertrain.
"Illicit" will feature the following products from The Aeromotive Group:
Each of The Aeromotive Group brands has a long, respected history, with Taylor and Aeromotive celebrating milestone anniversaries. Yet the focus for 2023 has been on product development and innovation. The company is committed to creating opportunities for each brand to move into the future, continuing to deliver even more quality and performance and to spark passion in its customers.
The elements on display in the SEMA 2023 booth will incorporate a number of new products and categories, including the following:
INVITATION
SEMA attendees and media are invited join The Aeromotive Group on Tuesday, October 31st at 3:30PM in booth #22743 in Central Hall. Jarod DeAnda will introduce the designer and builder of the 1969 Chevrolet Camaro "Illicit" by Lopez Performance as well as key personnel from The Aeromotive Group who will highlight new product developments.
FOLLOW THE AEROMOTIVE GROUP