Innovation galore at WebexOne: This isn't your father's Webex – SiliconANGLE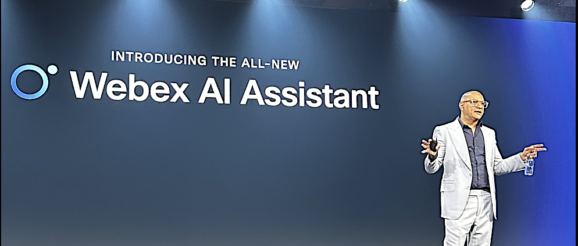 It has been a busy few days this week at WebexOne in Anaheim, where Cisco Systems Inc. revealed a number of new products and solutions for its conferencing and collaboration unit, including devices powered by Nvidia Corp.'s artificial intelligence engine.
The company also unveiled its broad AI strategy and some AI solutions it hopes will fight agent burnout. Here's what jumped out at me from the announcements.
Solutions to improve contact center agent efficiency and well-being
The well-being of employees is at the top of many leaders' lists. There is no area where that need is more acute than in contact centers. In an announcement today, Jeetu Patel (pictured), executive vice president and general manager of security and collaboration at Cisco, said the company is embracing agent wellness as a core value: "Our commitment to nurturing the well-being of agents means that businesses can build a foundation for growth, empower innovation and provide exceptional experiences to their customers."
The company announced an AI-powered tool that can detect agent burnout and prompt automated breaks. The solution includes stress-reducing videos, quotes from Thrive Reset from Arianna Huffington's Thrive Global, and real-time coaching after challenging customer interactions.
Cisco also said generative AI will automatically suggest responses to digital interactions that can help improve agent productivity. In addition, Cisco will generate summaries of calls and chats that show the resolutions a customer might have tried via self-service and summaries of a call's main points. The company will also generate wrap-up codes and actions following every customer interaction, which it says can free up five minutes of an agent's time.
New Nvidia-powered devices to improve collaboration
Hybrid work is here to stay, and Cisco is looking to improve the experience for workers who spend time in the office, on the road, or working from home.
Patel said in the announcement that companies must reimagine and reconfigure workspaces for the hybrid era. "Our collaboration with Nvidia helps make this possible as we expand our portfolio of AI-powered solutions that unlock the potential of hybrid workers," he said.
The company has reimagined its portfolio of devices with Nvidia AI processors, featuring solutions for any cost point and workspace. The devices, all powered by Nvidia-accelerated computing, include the new Room Kit EQX. Cisco says this device, built on Nvidia's Jetson Edge AI platform, is simple to deploy.
According to Cisco, customers want to refresh the way they use medium-sized to large spaces. These are often prominent locales for critical gatherings, but video-enabling them has been complex — often requiring an onsite specialist to knit together audio, video and furniture components. Cisco's new approach enables simpler deployment, more advanced audiovisual, cross-platform interoperability and the magic of unified management and security.
The collaboration between Cisco and Nvidia has produced what Cisco calls "Distance Zero," which aims to reduce the impact of distance with immersive workspaces and new "cinematic" hybrid presentations.
Although Nvidia and Cisco are announcing their partnership this week, in actuality the two companies have been working together for over a decade. I remember talking to Snorre Kjesbu, Cisco's senior vice president and general manager of devices, years ago about its "Spark Board," and he told me it had something like a dozen Jetson GPUs in them to do the special audio, speaker tracking, and other advanced capabilities.
An AI strategy aimed at improving audio and video experiences
Cisco also revealed its overarching AI strategy. In a briefing with Javed Khan, senior vice president and general manager of collaboration at Cisco, he told me that the company's approach revolves around three challenges. "The three problems we are solving are still the same," he said. "We're making sure that we make hybrid work work. Second, as offices evolve, we're making the office a magnet, not a mandate. Thirdly, enabling our customers to show to their customers that they care."
The company released new real-time media models, or RMMs, in Webex that can harness audio and video in powerful new ways. For example, instead of focusing on text-oriented large language models, RMMs can examine reactions, gestures, tone of voice, and inflections.
Cisco's AI Audio Codec in Webex is a new generative AI solution that makes the audio "crystal-clear" even when network conditions are poor. During his keynote, Patel explained that Cisco's knowledge of networks enabled it to build the AI Codec. The algorithms use AI to replace or rebuild dropped packets, so even when there is up to 90% packet loss, Cisco can deliver crystal-clear audio and video.
The company also launched a set of capabilities to help minimize work and costs for IT. The Webex AI Assistant will enable users to type queries about a meeting they might have missed. For example, you might type "catch me up on the 15 minutes I missed in the meeting" or "catch me up on all the meetings I missed on Friday while I was on PTO." Cisco says AI Assistant will generate the answers in real time.
The interesting thing about Cisco's AI assistant is that some functions work without the user having to do anything. When they demonstrated that scenario, Webex asked with a pop-up box if the worker would like to catch up. The vendor community has focused on ensuring products are easier to use with a better user interface, but the best UI is no UI, and that's what Cisco is delivering.
New Bang & Olufsen Cisco wireless earbuds with enhanced security and manageability
Cisco also unveiled wireless earbuds built in partnership with Bang & Olufsen. The company says the Bang & Olufsen Cisco 950 has features that should be helpful to hybrid workers, including security and information technology management capabilities. As expected, the earbuds are optimized for Webex Meetings and Calling.
All this was a lot of news to get through, and as one would expect, there was a heavy focus on contact center, AI-enhanced functions and devices. I thought the AI Audio Codec was the most impressive, as it highlighted the value of the broader Cisco. Poor quality is often a network problem, and Cisco is the only collaboration or contact center vendor with in-depth network knowledge.
This is an area of strength and differentiation that, for years, Cisco did not leverage as much as they could have. At the event, I discussed this with Brandon Echele, director of collaboration and productivity at World Wide Technology, one of Cisco's largest reseller partners. "Over the past few years, Cisco has done an excellent job integrating its network capabilities into the Webex platforms," he said. "The ThousandEyes agents embedded in the Cisco Devices combined with the network information ingested into Control Hub make it much easier for us to troubleshoot and manage our customer's networks."
When I look at the broader portfolio, Cisco Security, Observability, Spaces, Meraki, and SD-WAN all create integration points that can create a "1+1=3". And then there's the upcoming acquisition of Splunk that brings in another dimension and loads of data.
The communications industry is crowded today, with many "shiny new toys." Although it's fair to say that, going into the pandemic, Webex had fallen behind many of them, since then the company has come roaring back and loaded the product with new features, many of which are industry firsts. It now has a different challenge, and that's the perception that many IT leaders think of Webex as an old, stodgy brand.
I've been a Webex user for years and can definitively say that this product version is not your father's or even your older brother's Webex. This came up in a Q&A session with three of Cisco's partners, and one of them addressed this by saying she disagreed with the product being old but did agree that was the perception.
"Perception is reality," as the expression goes, which is indeed Cisco's current reality. How does Cisco fix this? There is no easy button for this, and it will require a consistent and methodical drumbeat of innovation and customer success stories.
I've talked with the Webex leadership team about this, and it's aware of this, is committed to the long game and assured me more Cisco integration is coming. I'm looking forward to WebexOne 2024 to see how much progress it has made in product innovation and, more importantly, turning the tables on perception.
Zeus Kerravala is a principal analyst at ZK Research, a division of Kerravala Consulting. He wrote this article for SiliconANGLE.
Photo: Zeus Kerravala
A message from John Furrier, co-founder of SiliconANGLE:
Your vote of support is important to us and it helps us keep the content FREE.
One-click below supports our mission to provide free, deep and relevant content.  
Join the community that includes more than 15,000 #CubeAlumni experts, including Amazon.com CEO Andy Jassy, Dell Technologies founder and CEO Michael Dell, Intel CEO Pat Gelsinger and many more luminaries and experts.