The Martin Group relocates Capital Region offices to Troy Innovation Garage – troyrecord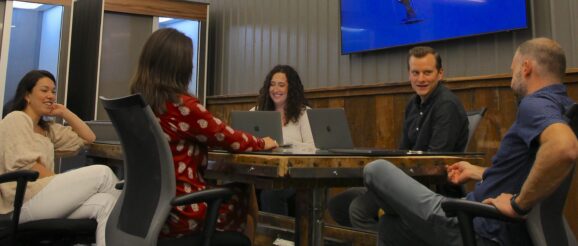 TROY, N.Y. — The Martin Group, an award-winning integrated communications agency, with offices in Buffalo, Rochester, and New York City, has officially established its relocated corporate home in the Capital Region at the Troy Innovation Garage.
The agencyrecently agreed to a multi-year lease term for The Garage's 3,500 sq. ft. enterprise office suite.
This announcement comes roughly five years after The Martin Group first opened its Capital Region operations in Latham. Since that time, the agency has hired 10 regional associates and increased its area client roster to over 75+ companies, causes, non-profit organizations, and trade associations—representing more than $2M in annualized billings. The enterprise suite and offices at The Garage are envisioned as a venue to accommodate future agency team growth, while providing a dynamic gathering space for clients, community partners, and special events.
"Our new location gives us the flexibility and work environment we need for our developing team. It's an opportunity for us to deepen our collaborative, empowering culture and inspire the creativity of the talented people who are building their careers with us at The Martin Group," Jennifer Hunold, General Manager of The Martin Group's Capital Region office, said in a news release from their agency. "Moving our offices to a larger space reinforces our aspirations to both continue growing at a rapid pace and make enduring connections with the community and our national client base."
Of The Martin Group's many local clients, several notable agency partners include: the New York State Restaurant Association, CDTA, M&T Bank, Business for Good, FuzeHub, Albany Firewolves, and Western Governors University. The agency added 23 new clients in 2022 and experienced 20% year-to-year revenue growth. In addition, at the recent Capital Region MARCOM Awards—which honors the area's best in marketing communications—The Martin Group received seven awards and had 12 finalist entries, the most of any participating organization.
"Capital Region growth remains a focal point for our agency, and we are laser-focused on providing our many outstanding associates and clients with the proper tools, insights, services, and physical gathering spaces needed to stay inspired, connected, and energized," said Matt Davison, Chief Business Officer at The Martin Group. "By graduating into the Troy Innovation Garage, we are placing our team at the heart of the region's innovation economy, and surrounding our agency with a shared entrepreneurial spirit that has long been a hallmark of The Martin Group."
As part of the lease arrangement, The Martin Group intends to help activate the coworking spaces at The Garage and the Bull Moose Club for collaborative gatherings and public discussions covering policy issues, community topics, entrepreneurism talks, marketing skills trainings, and more.
The Martin Group provides an array of multidisciplinary marketing services, including analytics, branding, creative, digital, media, public affairs, public relations, research, social media, strategy, business consulting, and videography. Led in the Capital Region by General Manager Jennifer Hunold, the location is also home to the agency's statewide public affairs and public relations teams, which are managed by Andrew Mangini, Vice President of Public Affairs, and John Mackowiak, Vice President of Public Relations.
(PROVIDED PHOTO)
The Martin Group has relocated its Capital Region offices to the Troy Innovation Garage.
(PROVIDED PHOTO)
The Martin Group has relocated its Capital Region offices to the Troy Innovation Garage.
(PROVIDED PHOTO)
The Martin Group has relocated its Capital Region offices to the Troy Innovation Garage.