Thomasville Utah Continues its Tradition of Design Innovation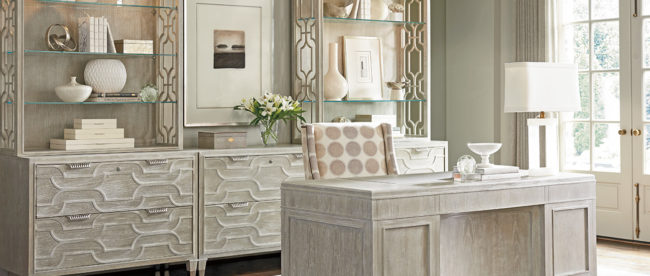 In every industry, there are pioneers and there are innovators. The pioneers see new possibility in previously unexplored territory. They take chances and introduce new ideas to new groups of people. The innovators take these new ideas and expound upon them, introducing important updates to existing concepts that become relevant to an entirely new generation of people.
Regardless of industry, pioneers and innovators play an equally important role in progress. They work in concert to continue important traditions and introduce new ideas that can be innovated even further as time marches on. It's the pattern of progress. And its the same for science, technology, and yes, even design.
A Pioneer in Utah Design
In 1984, Mark Ross had the idea to introduce a new brand of furniture to the people of Utah. A pioneer in the local design industry, Ross opened the first freestanding Thomasville store in Utah and only the second in the country. His idea was simple: combine the power of high-quality furniture with the friendliness of a family-owned furniture shop. Now, three decades later, Mark's son, Chris Ross, has innovated on his father's initial idea, making important updates to the family business and transforming Thomasville Utah into an industry leader in furniture retail.
Over the past 30-plus years, the Ross family has worked to innovate and grow their business, which now includes multiple high-quality furniture brands, including Bernhardt, Henredon, Century, Lexington, Hickory Chair and Theodore Alexander. To display it all, they opened a beautiful 30,000 square-foot showroom in Murray, which remains one of the most elegant places in the state to shop for furniture to this day.
As an important part of the innovation process, the Ross family realized that simply selling furniture wasn't enough. Rather, they believed that furniture should be paired with expert and complimentary design services to ensure that every customer walked away pleased with their purchase and the way it fit in their home.
A New Generation of Innovation
With all the improvements made to Thomasville Utah over the years, the business has remained true to its founding beliefs that an inspired home equals an inspired life and that quality furniture for any family should come from a family-run furniture store. In fact, Chris has already made a point to involve his own young family, which includes his wife Annie and five growing boys, in the business.
Speaking of innovation, Chris Ross is now preparing to bring another furniture-first to the Utah market, by opening the state's first standalone Bernhardt store right next door to his existing Murray showroom. For more than 129 years, Bernhardt Furniture has been selling distinctive, luxury home furnishings. The heritage brand is known for its skilled craftsman that create unique pieces with artful details and lavish materials. Inspired by art and architecture, Bernhardt's ultra-modern furniture sets the standard for contemporary design. And while they've gained the trust of designers and decorators across the country, they've never had a standalone store in the state of Utah—until now.
The store's grand opening, happening this September, will coincide with Thomasville's annual month-long Labor Day Sale. To celebrate, both stores are offering 50% off any one item. It's one of the company's biggest sales of the year. And it's yet another way for the entire Thomasville Utah family to introduce their brand of superior furniture and design services to more families in Utah.
The Pattern of Design Progress
Following the pattern set by the very best pioneers and innovators in other industries, the Thomasville Utah family has found success with a simple idea that has resonated with others, generation after generation. It's the pattern of progress. And it's alive and well in the Utah design industry.