Thought Leadership At UC-Davis Graduate School Of Management: Professor Andrew Hargadon On Innovation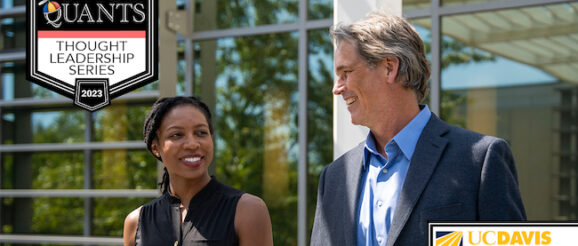 If you're interested in how Silicon Valley innovates new technologies and the role entrepreneurship plays in making the Valley the most dynamic place in the world economy, you need to meet Andrew B. Hargadon.
For the past 23 years, he has studied and taught the effective management of innovation and entrepreneur at UC-Davis Graduate School of Management. And he has worked at Apple Computer in the early days and is deeply steeped in the history and culture of invention, from Albert Einstein to Henry Ford.
A professor of technology management who holds the Charles J. Soderquist Chair in Entrepreneurship, Hargadon has written extensively on those key topics, particularly how companies bring science and technology to market
Hargadon is at the forefront of teaching, research and practice in cross-disciplinary entrepreneurship, and is founding director of two major centers at UC Davis—the Mike and Renee Child Institute for Innovation and Entrepreneurship and the Energy Efficiency Center. These centers are dedicated to promoting entrepreneurship and innovation through educational programs bridging science, engineering and business. They provide a successful framework for university scientists and engineers to move their ideas out of the lab and into the world.
A former product designer at Apple Computer in the 1990s, he earned his PhD and M.S. in mechanical engineering from Stanford University's School of Engineering and taught in the university's Product Design program before joining the faculty at UC Davis in 2001. Hargadon is the author of How Breakthroughs Happen: The Surprising Truth About How Companies Innovate (Harvard Business School Press, 2003). His most recent book is Sustainable Innovation: Build Your Company's Capacity to Change the World (Stanford University Press, 2015).
In this wide-ranging conversation, part of the Thought Leadership Series at UC Davis Graduate School of Management, Hargadon looks back on his career and the insights he has developed from his study of innovation and entrepreneurship. He is interviewed by former Businessweek Executive Editor and Poets&Quants Editor-in-Chief John A. Byrne.
John A. Byrne: You've had a long and productive career, starting with a three-year stint at Apple when the company produced the first Macintosh computer and through more than two decades of researching and teaching on innovation and entrepreneurship. Tell me why you became an academic. What was it about academia that really made you embrace it and leave Apple Computer?
Andrew Hargadon: That's a long story and a short story. The short story is I grew up in an academic family and in an academic community. So I was raised in the '70s at Stanford in a community where even the adults were constantly curious, always questioning and exploring new things. My classmates' parents had won Nobels and my best friend's father had invented a laser. So it was a great community and it's much like family farming. You're called back to it every season when fall comes around. You feel the pull of an academic lifestyle. And when you leave that culture, you want to spend a lot of time thinking and exploring the ideas that you're coming across at work.
What I found was, as much fun as doing design work and doing the early laptops for Apple, it was taking days, nights, and weekends. There wasn't much time to step back and think what are we doing here? Why are we doing it? What could we be doing differently? What am I learning? You're learning from a fire hose, which doesn't give you much time to think. And I started teaching into course in the design program at Stanford University.
I was having such a good time that my former advisor and mentor, Jim Adams, called me up and said, "Hey, we got this great PhD program. If I know you, you're probably two or three years away from a mortgage and promotion and you'll never come back. So now's the time." And he was right. So I came back and started a wonderful PhD program funded by the Sloan Foundation that was a business and engineering joint program. We studied not only the engineering challenges, but also the business challenges behind the engineering challenges. One thing led to another and not only did I get an engineering PhD, but I ended up in a business school where those two challenges come together and I can study and talk about them under technology management or innovation.
Byrne: What was your dissertation on?
Hargadon: My dissertation was actually on how a particular kind of cultural and social setting creates innovative organizations. I studied consultants, and with my advisor, Bob Sutton, I started with IDEO product development. I had actually worked there while I was getting my master's degree and a number of the IDEO folks were my professors at the design program. We did an ethnography of IDEO and we studied their brainstorming, their culture and their project teams and how they manage them.One of the things that came out of that was the realization that their competitive advantage, their ability to be so innovative at the time, was not that they were highly creative people or that they had the recipe locked in a vault somewhere to be innovative.
It was that they were really good at observing, remembering and recombining what they did. So every time they came to a new project, they brought years of experience with previous clients in different industries and the technologies they used and worked with. So they were constantly saying, "Yeah, you know what might work here? It was that thing we did at the other company, the co-injection molding from the toothbrush company that we did. We might be able to use that here in this laptop to make a better system."
Byrne: So they're transferring innovative ideas from other industries?
Hargadon: Right. And I think one of the reasons I really appreciated that was because even at Apple, which was so creative, I would call brainstorming sessions having worked at IDEO and it sometimes went over like a lead balloon. I had all the paper, all the wacky markers and the M&Ms on the table and yet what I realized afterwards, was I had brought together five people who were really smart, but they had all been at Apple for five years. Everything they knew was pretty much all they knew and all of them knew all of that. So they knew why it worked and why it didn't, but they could never really think past that because we're not good at thinking of things that we've never seen before. We're great at thinking of things we have seen before and trying to use them in a different way.
Byrne: That insight has less to do about culture and more to do about the actual work experience that people bring to the table?
Hargadon: Exactly.So one of the big findings of that research was, look, you can have all the off-sites you want. You can bring in all the speakers you want.
Byrne: All the M&Ms and the Post-It notes.