Three Israeli Startups Nab Prime Minister's Innovation Award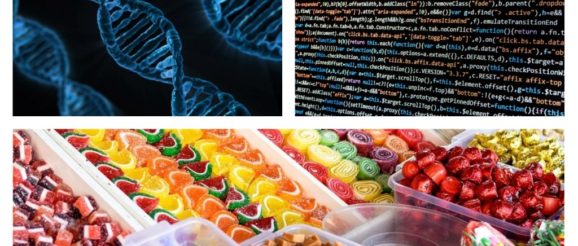 A composite photo of a gene sequence, code, and sweets. Photos via Pixabay.
Israeli startups Emedgene, DouxMatok, and Unbound Tech were announced as the winners of the Prime Minister's Innovation Award for breakthrough innovation in the fields of health, food, and privacy protection.  The award is given my the Prime Minister's Office in partnership with the Israel Innovation Authority.
Each winner will receive a NIS 70,000 ($19,169) prize. The awards will be presented to winner at the official opening night of the first-ever Prime Minister's Conference on Innovation being held on October 24 in Jerusalem.
Get our weekly highlights directly in your inbox!
The conference was initiated by the Culture and Sport Ministry, in coordination with the Peres Center for Peace and Innovation. The prizes are awarded as part of the 70th anniversary of the State of Israel. Israel's groundbreaking tech innovations in health, food, agriculture, sustainability, and cybersecurity will be presented at the conference to delegations from around the world including groups from China, the US, France, Australia, the United Kingdom, Germany, Mexico, and more. World leaders and executives from global offices of Google, Facebook, and Alibaba are also expected to attend.
The three companies who won the breakthrough award in their respective category were selected from more than 300 local startups based on criteria that included breakthrough innovation, global commercial potential, proof of product feasibility, social impact, and general impression on society.
In the health category, Emedgene is the first automated genetic interpretation platformu, using artificial intelligence for automatic clinical decoding of genetic information from full genome sequencing.
DouxMatok, a food tech startup that has developed a patented sugar reduction solution, announced in July it would partner with German company Südzucker, the largest sugar producer in Europe, to set up "production, joint marketing and sales of DouxMatok sugar" to Europeans by next year.
Unbound Tech, a Tel Aviv-based company, provides protection for private data, credentials, and cryptographic keys.
"The selected winners represent promising and developing worlds that are essential for the advancement of humanity as a whole and require the continued support of the State. Without such support, the State of Israel will not be able to continue to lead the technological worlds. The high responsiveness of the entrepreneurs encourages and demonstrates how well we are in the right direction, the State of Israel must continue to support breakthrough innovation for its continued economic and social prosperity," Dr. Ami Applebaum, chairman of the Israel Innovation Authority said. Applebaum also serves as chairman of the prize committee.