Time Equipment Installs TIBA Parking System at Stadium Innovation Center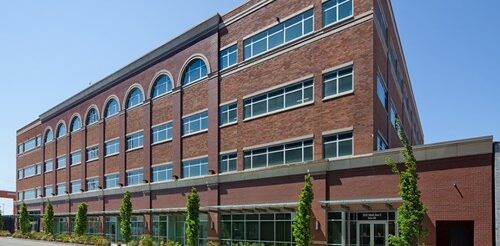 Stadium Innovation Center had a parking system over 12 years old and was looking to update the technology and functionality of its current system. Their parking system needed to not only service their monthly tenants but also be flexible to handle event parking for nearby T-Mobile Park, home to the Seattle Mariners, and Lumen Field, home to the Seattle Seahawks and Seattle Sounders. Ownership was interested in the latest technology for the parking garage to service their customers.
Stadium Innovation Center has 220 parking spaces for use by monthly tenants and events.
Time Equipment Company installed new TIBA MP-60 entry and SW-60 exit terminals for two separate street access points. In addition, the installation of a CPS-60 Pay-on-Foot Terminal allows customers the ability to park hourly. A considerable amount of garage revenue is generated by event parking at the stadiums. As a result, TIBA customized its software for the operator to allow them to change rates on the fly. The operator can adjust the parking rate as it gets closer to the event's start time.
In addition, this site uses the TIBA SPARK Suite Software Platform. It is a cloud-based web environment that allows parking operators and owners to control, manage, and monitor all their facilities from a central location. SPARK utilizes the successes of SmartPark and expands the user experience in a streamlined and accessible way. Accessible from any Internet-ready device, SPARK can be reached virtually anywhere in the world.
Stadium Innovation Center, 1531 Utah Avenue South in Seattle, is a 6-story, LEED Gold-certified, flex office building in the heart of Seattle's Stadium District just south of historic Pioneer Square. This prime location offers tenants a mix of shops, restaurants, and entertainment, including Mariners baseball, Seahawks football, and Sounders FC soccer at the nearby T-Mobile Park and Lumen Field stadiums.
As the leading expert in parking control systems in the Northwest, Time Equipment Company simplifies complicated processes by offering seamless and reliable systems. Time Equipment Company is the exclusive provider of TIBA Parking equipment in the Northwest.
For over 30 years, TIBA Parking Systems has provided innovative solutions for the parking market, resulting in reliable, user-friendly products that lower the initial acquisition price and ongoing maintenance cost. TIBA has successfully implemented this by focusing on software development while continuing to enhance and support its reliable hardware platforms. As a result, this system allows owners to keep their capital investment down while still enjoying the latest software functionality.
About TIBA Parking Systems 
TIBA Parking Systems, a FAAC Group company, is the leader of solutions for the parking and mobility industry. With the most advanced and flexible systems, TIBA products are scalable, reliable, and user-friendly. TIBA is wholly committed to an "Engaged Parking Experience" through a focus on superior products, providing the industry's most configurable solutions, and delivering a first-rate customer success partnership. TIBA's flexible cloud architecture enables parking operators to leverage technology and market trends and unlock new revenue opportunities. TIBA serves parking operators and owners both directly and through an extensive network of value-added resellers. Visit www.tibaparking.com to learn more.