Tool of North America Signs Hal Kirkland as Innovation Director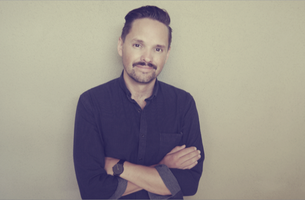 Tool of North America Signs Hal Kirkland as Innovation Director
Hal has produced work for brands such as Coca-Cola, Vice, Google, Oculus/Samsung and MTV
Tool of North America, a creative production partner to award-winning brands and advertising agencies, today announced that Hal Kirkland is the newest director to be signed to its Innovation roster.
Kirkland is an internationally awarded Director, Creative Director, Writer and Media Artist who wields words, film and technology to create meaningful human stories and experiences. He has created work for some of the world's leading brands, including Coca-Cola, Vice, Google, Oculus/Samsung and MTV, and has worked with agencies and production companies including R/GA, Wieden+Kennedy, BBH, 180, Here Be Dragons and Prettybird.
"Hal is a creative force who holds no boundaries in his work," said Dustin Callif, Managing Partner at Tool. "We are always looking for talent that have the expertise to re-invent how brands communicate with buzz-worthy creative. He is the perfect blend between innovation, creative strategy, and execution. His work is an example of what we are always striving towards at Tool, and Hal is a fantastic addition and inspiration to our team."
"I'm very excited to join the Tool team," Kirkland said. "We've been on each other's radar for a while now, and I'm glad the planets have finally aligned so we could join forces. They live and breathe innovation, rather than just talk about it. As a multidisciplinary creator, I couldn't be more excited about the things we'll make together.
Kirkland is at the forefront of exploring new story formats, both virtual and augmented reality and tinkering with emerging technologies to make even more immersive realities and branded experiences. His work has attracted over 60 international awards, including from the UK Music Video Awards; D&AD; Golds from the Clios, Cannes Lions and The One Show; multiple Grand Prix in 10 festivals; as well as 25 Best Music Video Awards from different awards shows. His work has been showcased in Rolling Stone, The New York Times, TechCrunch, Contagious, Creativity, PSFK, and CNN, among others.
In Kirkland's VR/360° music video for OneRepublic's 'Kids', he choreographed over 100 people in a four-minute-single-take. His interactive music video for Led Zeppelin invited fans to step behind the facade of their legendary Physical Graffiti album so they could move between 17 music videos simultaneously. For his music video for the indie band 'Sour,' he choreographed 80 fans from around the world via webcams to create a mesmerizing, globally-adopted visual style. The film became the most awarded music video in the world in 2010, toured in museums and best of all, was replicated scene for scene for numerous Japanese wedding videos.
As a Media Artist, Kirkland reimagined the context of entire exhibitions at New York's Guggenheim and MoMA via interactive audio tours that introduced art to a whole new wave of pop-culture savvy audiences (Artobots Guggenheim + MoMA Unadulterated). He also co-created a life-sized paper guillotine that people actually lined up as part of a tour in Amsterdam, London and Switzerland.