TS Conductor Wins Public Utilities Fortnightly's 2023 Edison Pioneers Innovation of the Year Award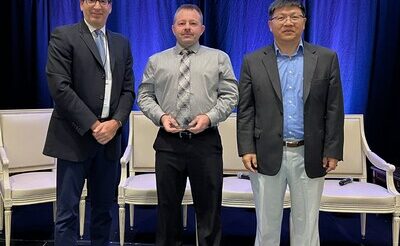 "Upgrading power grids with TS Conductor technology is the electricity system equivalent of making the leap from copper wiring to fiber optic Internet. And we are honored to be making that leap with forward-thinking leaders like TVA. —Dr. Jason Huang, CEO of TS Conductor
TVA is the country's largest public utility, serving approximately 10 million customers in the southeastern U.S. Together with power grid solution provider TS Conductor, the companies were recognized for their collaborative efforts in deploying advanced conductor technology to usher the power grid into the twenty first century.
Their work addresses today's biggest energy sector challenges head on, from fast-growing demand, to grid congestion, to extreme weather, to the gigawatts of renewable generation that must soon connect to the grid.
"We are proud to recognize TVA and TS with the inaugural Edison Pioneers Innovation of the Year Award for their collaboration in installing advanced electric transmission wires that are more efficient, safer, and higher capacity than traditional wires," said Public Utilities Fortnightly executive editor Steve Mitnick. "If work like this is replicated industry-wide, we can accelerate the industry's transition to a decarbonized, reliable, and affordable electric grid for the American public."
The technical innovation recognized is TS' high-performance, high-strength conductors, which are capable of transporting three times the electricity with half the line losses and minimal sag compared to traditional ACSR/ACSS conductors. Because TS technology can be installed using the same tools and techniques already familiar to line crews for decades, their wires can be used across both new build and reconductoring projects.
These advanced conductors are capable of accelerating grid decarbonization by allowing more renewable generation to connect to the grid and alleviating current interconnection bottlenecks. The TS solution translates into greater reliability and resilience, plus lower costs for utilities who can upgrade transmission and distribution infrastructure without replacing existing towers.
"Upgrading power grids with TS Conductor technology is the electricity system equivalent of making the leap from copper wiring to fiber optic Internet. And we are honored to be making that leap with forward-thinking leaders like TVA," said Dr. Jason Huang, CEO of TS Conductor.
TVA recently leveraged TS technology to complete reconductoring projects for transmission and distribution networks in their region. The utility has experimented with advanced conductors for more than a decade, but their recent exploration of TS technology made near-term deployments a reality, thanks in part to the lower price point compared to other advanced conductor options.
"TVA hopes to lead the way in demonstrating to the world that the future of grid modernization is more promising than ever. We are proud to receive this recognition of our work with advanced grid technologies," said Aaron Melda, senior vice president of transmission power and supply at TVA.
The Edison Pioneers Innovation of the Year Award was inspired by an early twentieth century organization made up of energy industry founders who worked collaboratively to shape the industry's path forward. The Public Utilities Fortnightly team created this award category in the spirit of collaboration for the good of the country and world and to pay homage to these groundbreaking energy leaders.
To learn more about TS Conductor solutions, visit www.tsconductor.com.
About TS Conductor
TS Conductor products allow transmission & distribution grid operators to be active participants to the energy transition – by reducing line losses and accelerating the integration of wind, solar, and battery storage — while leveraging existing infrastructure assets. Our products can be used to substitute ACSR conductors using the same tools and installation procedures. TS Conductor is a Minority Business Enterprise (MBE), and a public benefit company focused on sustainable development and GHG reduction. TS is backed by Breakthrough Energy Ventures, National Grid and NextEra. For more information, visit www.tsconductor.com.
Media Contact
SOURCE TS Conductor