Two New Bedford-based groups to win Innovation Awards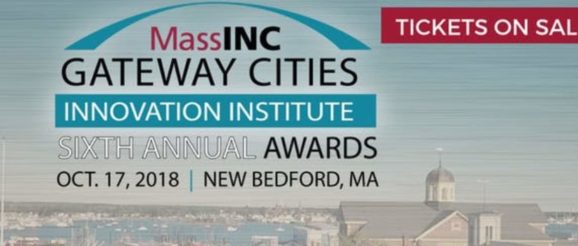 The Standard-Times
NEW BEDFORD — Two organizations based in the city will receive Innovation Awards during the sixth annual Gateway Cities Innovation Institute Summit and Awards.
The New Bedford Regeneration Committee and Spherical | Analytics (ImpactLABS) will be honored Oct. 17 at the Whaling Museum. Also receiving awards will be the
Kinefac Corp., Lawrence High School, Merrow Manufacturing, ROOT, SouthCoast Development Partnership, SPARK Holyoke and Springfield Technical Community College.
State Rep. Antonio F. D. Cabral, D–New Bedford, also will receive the "2018 Gateway Cities Champion Award" at the summit.
The theme for the summit is "Pioneering Strategies for 21st Century Growth," according to a news release. The summit and awards luncheon will focus on how gateway cities can reshape their economies.
"From forming regional training partnerships to designing transportation networks and industrial districts, we'll look at how Gateway Cities develop and execute strategies to compete for broadly-shared prosperity," according to the release.
The keynote address will be given by Alan Berube, senior fellow and deputy director at the Brookings Institution Metropolitan Policy Program. He will discuss how to strengthen economic opportunity in regions, cities and communities.
Afterward, two panels will be led by gateway city leaders:
Conversation 1: Strategies for Inclusive Growth
Teresa Lynch, Principal, MassEconomics Robert Johnson, Chancellor, UMass Dartmouth Lauren A. Liss, President and CEO, MassDevelopment Chris Rezendes, Managing Director, Spherical | Analytics (ImpactLABS) Derek Santos, Executive Director, New Bedford Economic Development Council
Conversation 2: Implementing Strategies with Limited Resources
Aimee Ward Weeden, COO, MassINC Ira Moskowitz, Director of Advanced Manufacturing Programs, MA Tech. Collaborative Laura L. Douglas, President, Bristol Community College Andrea Wagner, Senior VP of Business Development, Berkshire Sterile Manufacturing
The summit is MassINC's premier fundraiser to support the Gateway Cities Innovation Institute. For information, contact Aimee Ward Weeden at [email protected]