UCD researcher wins 2018 Allergan Innovation Award – Irish Tech News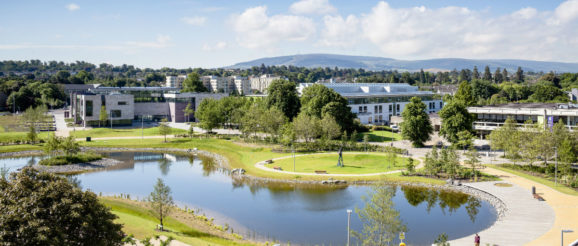 Dr Nicky Bertollo has won the 2018 University College Dublin (UCD) Allergan Innovation Award in recognition of the innovative potential within his research to develop a new microneedle patch design to improve drug and vaccine delivery via the skin.
Dr Bertollo is an early career researcher in the UCD School of Mechanical and Materials Engineering working with Dr Eoin O'Cearbhaill , Fellow of UCD Conway Institute and Assistant Professor in Biomedical Engineering. This award will provide Dr Bertollo with a research bursary of €7,000 to enable him to bring his novel microneedle patch design to the next stage of development.
Microneedle patches (MNPs) have enormous potential for painless drug and vaccine delivery via the skin and for health monitoring. However, at present, a significant limitation to the use of MNPs is the consistency and uniformity with which the payload is delivered into the skin.
Repeatable, full-length exposure of individual microneedles coated with therapeutics and vaccines to skin is paramount. Conventional MNPs that are pressed onto the skin achieve between 15-45% exposure, as the skin is effectively pushed away and deformed during manual application.
Dr Bertollo is hoping to overcome this limitation with his two-part MNP design that is simply 'clipped' onto skin. This novel approach using arrays of angled microneedles draws skin towards the MNP during application, which achieves repeatable, full-length microneedle exposure.
Speaking at the award ceremony at UCD, Dr Bertollo said:
"The bursary will make a real difference to my research; enabling me to carry out drug-coating and elution studies that will inform how our microneedle patch design can be brought to the next stage of development. I am very grateful to Allergan for this opportunity, and would also like to thank Enterprise Ireland for funding this research".
The research team are looking at opportunities to commercialise applications of the underlying technology through a recently formed UCD spin-out company, Latch Medical.
Last year, Allergan marked 40 successful years of business in Ireland by announcing details of a new Innovation Award Programme. For the second year running, UCD has secured funding under this programme and is delighted to continue to partner with Allergan to support accomplished scholars who wish to advance their innovative research studies in the field of life sciences.
Dr Francis Bates, Vice President Global Solid Oral Dosage Manufacturing at Allergan, and the Plant General Manager at the manufacturing facility at Clonshaugh in Dublin presented the 2018 Allergan Innovation Award to Dr Nicky Bertollo, at a ceremony during the 2018 UCD Conway Festival of Research & Innovation.
Announcing the winner, Francis Bates said:
"We are delighted to again partner with University College Dublin for this year's Allergan Innovation Award. We are pleased to build on our longstanding relationships with communities through providing educational support to universities and colleges around the country, by reaffirming our commitment to the future of life sciences. Our warmest congratulations to Dr Bertollo and we wish him continued success with his research to improve drug delivery, an area of key interest to Allergan.
We hope that this Innovation Award will inspire more students who wish to establish themselves within the field of life sciences. Collaborating with a prestigious university, such as University College Dublin, is an exciting initiative for all involved, and we look forward to the positive results and experiences it will bring for students and for our industry."
Speaking at the award ceremony, Professor William Gallagher, Director, UCD Conway Institute and Professor of Cancer Biology in UCD School of Biomolecular & Biomedical Science said:
"The overarching aim of UCD Conway Institute is to promote internationally competitive excellence in biomedical research that provides new insights that can be leveraged to the benefit of society. By fostering a culture of innovation within our early career researchers, we can enable them for success in careers within industry, academia and research support agencies. We are delighted to engage with industry partners, such as Allergan plc. to explore the potential in developing fundamental research into commercial and clinical reality."
A second bursary prize of €1,000 was presented to Barbara Hughes, a doctoral candidate working with Professor Sabine Koelle, UCD School of Medicine and UCD Conway Institute. Barbara Hughes' research aims to further develop a live cell imaging technology that will track the development of sperm inside the human fallopian tube. This will help to create new strategies for increasing fertility in couples as well as maintaining fertility in patients affected by gynaecological cancer.