Unfolding Innovation: Exploring Galaxy Z Flip Series' Legacy of Creation and Self-Expression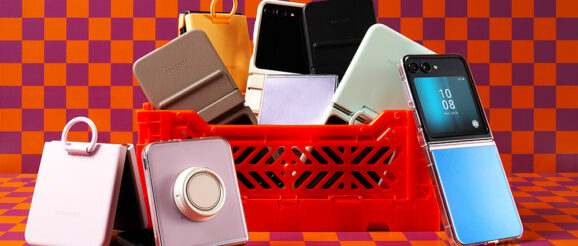 Once revolutionary in the mobile landscape, flip phones are now an integral part of our daily lives. From their early inception to modern iterations like the Galaxy Z Flip series, these iconic devices have transformed how we communicate, interact and express ourselves. Over the years, the Galaxy Z Flip has evolved from a compact communication device to the ultimate tool for unleashing your creativity — empowering users to unfold a world of possibilities with a simple flip. Samsung sat down to detail the journey of how this groundbreaking series pioneered a new era of mobile innovation.
Following the ground-breaking launch of the Galaxy Z Fold, which has taken the mobile landscape by storm, Samsung unveiled yet another revolutionary form factor that took the mobile market by storm. Introducing the Galaxy Z Flip: a device that folded effortlessly in half and could stand upright on its own.
With the Galaxy Z Flip, Samsung revolutionised user interaction by introducing Hideaway Hinge. Much like a laptop, the hinge allowed users to open and position their phones at any angle. Users could securely fold, angle and position their devices, saying goodbye to shaky hands and hello to picture-perfect shots — whether they were snapping a hands-free selfie or capturing a moment with friends.
Also, Samsung released Flex mode, which automatically divided the screen into two when the device was folded. By collaborating with various partners, Samsung optimised this cutting-edge interface and enhanced usability. For example, in the camera app, users could preview the viewfinder on the top while adjusting the camera modes or lenses on the bottom. In addition, the phone supported Multi Window, enabling multitasking by simultaneously displaying different content on each screen.
Continuing the legacy of the Galaxy Z Flip, the debut of the Galaxy Z Flip3 took the series' design and performance to new heights. The expanded Cover Screen was one of the phone's most notable upgrades, now four times larger than its predecessor. Going beyond its traditional role of displaying the time and date, the device's Cover Screen was maximised for both self-expression and productivity. Users could unlock their creativity by customising their Cover Screen with images or GIFs and conveniently view up to eight lines of notifications and messages. What's more, Samsung Pay transformed Cover Screens into wallets — helping users make payments in one simple step.
The Galaxy Z Flip3 also boasted a variety of camera features that elevated the user's photography experience to capture and share moments hands-free through Flex mode. With the addition of Auto Framing, the camera detected the location and number of people or objects within the frame and automatically adjusted the format accordingly for photos and videos. Suppose a photographer and the subject of a photo wanted to view the preview of a shot at the same time. In that case, all the user needed to do was tap the Dual Preview button at the top right-hand corner of the screen. Furthermore, users never missed a shot while striking a pose with the enhanced Quick Shot.
Not only could the Galaxy Z Flip3 fit nearly anywhere, but it also offered improved durability and water resistance. The lightweight exterior was crafted from Armor Aluminum, the strongest material used in Galaxy devices to date, and Corning® Gorilla® Glass Victus®, safeguarding users' smartphones for any condition. A new protective film placed on the main display improved durability by 80% compared to the previous generation.
In 2022, Samsung released the Galaxy Z Flip4, complete with a host of practical features that effortlessly fit into daily routines. For instance, users could experience the convenience of the Flex mode panel which opened a touchpad that supports a range of gestures at the bottom of their screen. Similar to the cursor of a computer mouse, users could easily control various elements with a swipe of their finger — pausing, rewinding or playing videos without picking up the device. Another feature that increased productivity was the swipe gesture, optimised for multitasking. For example, if users swiped up with two fingers, the screen split into a top and bottom half to open a new app. With the swipe gesture, Galaxy made frequently used features, such as zooming in and out or turning pages, even faster and more convenient.
The Galaxy Z Flip4 also gave users more control than ever over their pictures. By simply pressing the side button twice, users embraced the Galaxy Z Flip4's Quick Shot feature to capture moments and selfies without opening their phones. Now, they could even start a video on Quick Shot and easily transition to FlexCam without any interruptions. To capture the starry night sky, users could experience the all-new Nightography mode to take out-of-this-world shots, even in the dark — for bright, sharp photos with less image noise.
The Galaxy Z Flip4 effortlessly blended high-performance capabilities with a personalised touch, truly reflecting its owner's style. When the Bespoke Edition launched, there were new opportunities to express individuality — users could choose from a combination of five glass colours, including Yellow, White, Navy, Khaki and Red, and three frame colour options, including Silver, Gold and Black. Users could also enjoy the Galaxy Z Flip4 for even longer than the previous generation, thanks to its 400mAh larger battery.
This year, Samsung released the Galaxy Z Flip5, delivering the most stylish, unique foldable experience yet. Built for self-expression and complete with an innovative design and customisable functions, the prominent feature is the upgraded Flex Window that is 3.78 times larger than its predecessor's Cover Screen.
Thanks to the larger screen, the Galaxy Z Flip5 offers more usability than ever before. With Flex Window, users can easily check and control Widgets, including the weather, stock market and music, without ever unfolding their phones. To see all Widgets at a glance, simply pinch the screen to activate the Multi Widget View function. The wider Cover Screen and fully accessible QWERTY keyboard make checking and responding to phone calls and messages even easier.
The new Flex Window provides the most versatile camera experience on a Samsung Galaxy smartphone to date. To snap a selfie with the rear camera, users can conveniently check their smile on the Flex Window before capturing stunning, hands-free photos from creative angles before correcting the colour and tone. The camera-stabilising Super Steady feature also ensures that users take smooth shots on the go. With improved Nightography capabilities to optimise photos in low lighting and digital 10X zoom, users can unleash their creativity anywhere, anytime and at any angle.
Now, there are even more ways to customise your Galaxy Z Flip5 inside and out. For instance, the new Flipsuit Case is equipped with a changeable NFC card, called Flipsuit Card so users can coordinate their Flex Window design and case design for even more personalisation options.
The Future of Flip Phones Is Here
Building on its history of flipping the script, Samsung has delivered a history of mobile experiences that enhanced everyday life. Each device packed a variety of features that pushed the boundaries of mobile innovation. The Galaxy Z Flip series has been an exceptional entrant in the smartphone industry with its screen folding technology and showed just how powerful flippable phones can be with every new edition. Samsung will continue to challenge conventional notions of the smartphone through the Galaxy Z Flip series as it unfolds new and extraordinary possibilities for users everywhere.
The post Unfolding Innovation: Exploring Galaxy Z Flip Series' Legacy of Creation and Self-Expression appeared first on Urban Lifestyle.