Unleash Your Ambition at the ABM Innovation Summit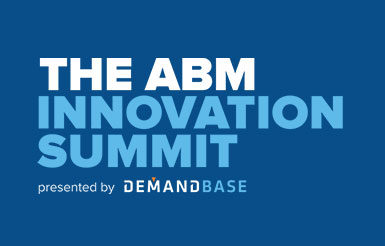 In the five years since I've been doing Account-Based Marketing – three of those at Demandbase, with the other two as a Demandbase customer – I've enjoyed making an ever-increasing impact on my business. And I don't just mean increases in clicks and form conversions. I'm talking about big boosts in the meaty metrics like pipeline, closed business, ACV and funnel velocity.
What has driven this? The kneejerk reply you'd expect from me here is "ABM, of course." But that would only be scratching the surface. Anyone can run an ad pilot and convince themselves that they've checked the ABM box. But wait! Doing ABM, and doing it well, means going all in. ABM isn't just for bleeding-edge marketers anymore. It's for everyday marketers that want to move beyond pilot programs and make ABM part of the ethos of their organizations…the way they do business.
For all of you that are ready to explore what it means to go all in with ABM – and more importantly how to go all in – I invite you to join me and more than 1,000 of your fellow B2B marketing and sales peers at the sixth annual ABM Innovation Summit. (Psst…if you join our list before November 5, you'll get our best-of-the-season offer of 50% off). Mark your calendar for March 14-15, 2019 and plan to be at Pier 27 in San Francisco for this seminal industry event.
Check out this video to find out why attendees consider this the ABM event of the year.
Now's the time to act! To lock in savings of 50%, claim your coupon now and save the date for March 14-15. Requesting a coupon doesn't mean you're committed to attending, so there's no risk! And since this will be our best deal all year, why not act now?
SIGN UP FOR OUR NEWSLETTER
We'll send you a monthly email rounding up our best blog articles.
Thank you for subscribing.